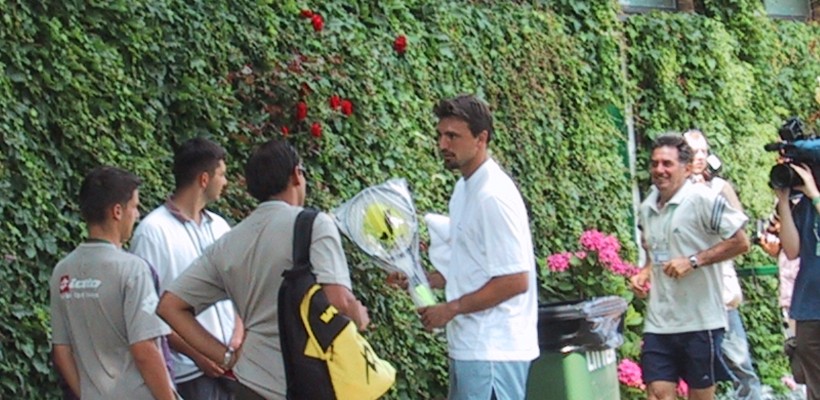 Wimbledon 2020 cancelled due to Corona Virus.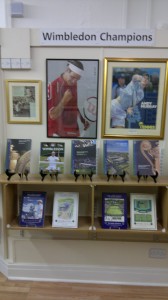 There will be no 2020 Wimbledon Champions to display.
Wimbledon 2019.
Majestic Mens Singles Final.
Novak Djokovic wins 2019 Wimbledon Mens Singles.
Novak won the fifth and final set on a tie-break
13-12, 7-3 in the breaker.
Congratulations to both finalists
for putting on such a brilliant display.
Ladies Final.
Simona Halep, 2019 Wimbledon Ladies champion,
defeating Serena Williams  6-2, 6-2.
Day 8.
Strycova's brilliant game-plan
too much for Johanna Konta.
This match was won at the net
where Strycova was excellent.
After a good start Johanna produced
an error-strewn display
mainly due to the clever tactics
employed by her Czech opponent.
A sad end to a very promising
Wimbledon 2019 for Johanna.
Day 7.
Johanna Konta marches on.
Petra Kvitova (below) was her latest victim.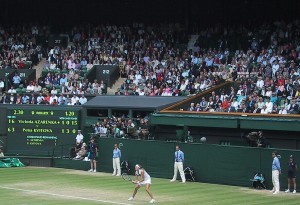 Johanna won 4-6, 6-2, 6-4
to set up a quarter final with
Barbora Strycova tomorrow.
Day 6.
Konta marches on into round of 16.
Dart out-classed by Ashleigh Barty.
Dan Evans needs a plan B to progress.
Johanna Konta staged a great recovery
to defeat Sloane Stephens in three sets.
Johanna plays Petra Kvitova on Monday.
Second match on Centre Court.
Harriet Dart was out-classed by World Number One
Ashleigh Barty, but has made encouraging progress.
Dan Evans' one-dimensional tactics cost him dearly.
In a five-set thriller Portugal's Sousa got to grips with
Evans' predictable pattern of play.
Evans was in a position to win this match
but blew it on too many occasions.
Day 5.
Fifteen year-old Cori Gauff into round of 16.
2-5 down in final set Cori hit back to win 7-5
in the final set.
Centre Court spectators' joy was shared by patrons
of Cori's dad's sports bar back in Delray Beach.
Cori faces Simona Halep on Monday.
Day 4.
Johanna Konta through to round three in straight sets.
Dan Evans wins in straight sets to progress to round three.
Andy Murray wins his opening match in the Mens Doubles.
Day 3.
Kyle Edmund loses after taking two set lead.
Heather Watson knocked out in straight sets.
Bad day for the Brits.
Day 2.
Britain's Harriet Dart comes back to win from a set down.
Dan Evans and Cameron Norrie win in straight sets.
Jay Clarke wins in four sets to set up Federer clash.
Johanna Konta passes first round test.
Day 1.
Seeds tumble out of Wimbledon 2019.
Fifteen year old qualifier Cori Gauff defeats Venus Willliams in straight sets.
Cori Gauff conqueror of Venus Williams.
Alex Zverev, Stefanos Tsitsipas and Naomi Osaka out in first round.
Back The Brits.
Heather Watson safely through.
Kyle Edmund also wins in straight sets
but there were far too many forehand errors
and a low first serve percentage.
Johanna Konta looks the real deal.
Johanna has been most impressive in Paris.
She reaches the 2019 French Open Semi-Final.
Should Andy Murray retire?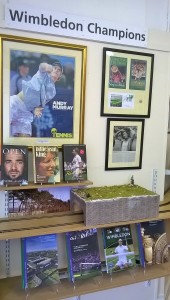 Andy has had a fabulous Tennis playing career,
has already left a considerable legacy to British Tennis;
and has still so much to offer the younger generation
of British Tennis players who are beginning to emerge
as real prospects at Grand Slam level.
Andy is undoubtedly our greatest ever Tennis player.
It has been a real privilege to meet him and watch him win Grand Slams.
He has put the 'Great' back into Great Britain's Tennis.
Katie Boulter's Grand Slam Prospects.
Having watched Katie play in the Federation Cup
I am convinced she has the ability to go all the way
in a Grand Slam.
Jeremy Bates has done an excellent job with her
and I can see she has the weapons
to really threaten the world's best
Women Tennis players.
Katie must improve her first serve percentage
but I have been most impressed with her
performances in the Fed Cup.
Great Britain have now returned to the World Group Level
of the Federation Cup.
This will give Katie the opportunity to play
some of the World's very best Women Tennis Players.
Watch this space as they say!
Wimbledon 2018.
Novak Djokovic, conqueror of Kyle Edmund, wins 2018 Mens Singles.
Angelique Kerber wins Wimbledon Ladies Singles Title.
Disappointment for Jamie Murray as he loses Mixed Doubles final.
He should find a mixed doubles partner who can play at net.
Wimbledon Committee must introduce a tie-break in final set of matches.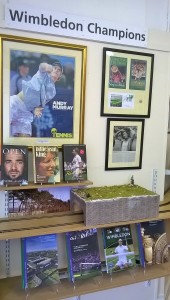 Seeds tumble out of Wimbledon 2018.
Jo Konta, defending Ladies champ Garbine Muguruza,
Marin Cilic and Stan Wawrinka,
all tumbled out of their respective Wimbledon Draws.
Kyle Edmund won in straight sets to book
a Saturday clash with Novak Djokovic.
Can England beat Sweden and Kyle beat Novak on the same afternoon?
Of course they can.  Seize the moment boys!
Double Hotdog boy Nick Kyrgios is through
to round three defeating Robin Haase.
Nick is the real deal and could go all the way.
He must show the mental fortitude to match his undoubted Tennis skills.
Should be a great Saturday at SW19.
Days 1 & 2.
Brits on fire as Edmund, Swan, Konta and Boulter all reach round 2.
Roger Federer must be the firm favourite to retain his Wimbledon title.
Can Kyle Edmund go one better and reach the Mens' Singles Final?
East Midlanders Swan and Boulter did really well to progress to round 2.
See you tomorrow for more Wimbledon updates.
Two times Wimbledon Champion out of Wimbledon 2018.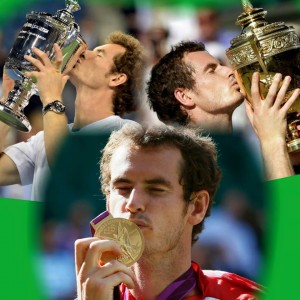 Andy Murray, the two times Wimbledon Champion, probably faces hip surgery
following his withdrawal from the 2018 Australian Open.
Andy, who has been struggling with a hip injury
since Wimbledon 2017 needs to get the problem sorted.
Tommy Haas and Lleyton Hewitt
have both come back from hip surgery
which gives Andy every chance of a full recovery.

Welcome to our new Tennis Champions display.
This month we feature:
Rafa Nadal, Andy Murray and Andre Agassi.
Many thanks to William Robinson,
who brought us a wonderful leaflet from Mallorca
where Rafa has his academy.
We include Murray and Agassi as we wish to feature this story:
When Andy and his brother Jamie were kids,
mother Judy hired a mini bus and took the
boys from Dunblane down to Wimbledon.
Andy was a huge Agassi fan and wanted to meet his hero.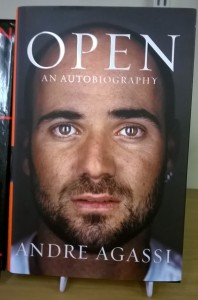 As luck would have it Andy met Andre,
who sadly refused to sign an autograph.
Andy was gutted and vowed that if he ever
became a Tennis superstar he would always
sign autographs for his fans.
Andy has always signed autographs for me
on the occasions we have met and always
signs for his fans after matches.
Andy doesn't want any youngster to feel as he did
when his own hero refused to sign an autograph for him.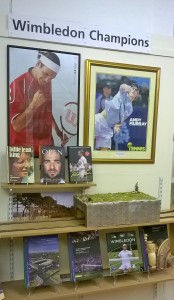 Andy Murray needs to rest after an exhausting close to 2016.
Wimbledon Champion Andy Murray has struggled in 2017
as a result of his efforts to become World Number 1.  
Andy played so many matches at the back end of 2016 that fatigue was inevitable.
Shingles, injuries and attacks by viruses are symptomatic of being run down.
If I was Andy I would have followed Roger Federer's example and skipped the French Open, despite having so many points to defend and prepare thoroughly for the Grass Court Swing.
Andy's recent lethargic performances can only be put down to fatigue.
Wimbledon 2017.
Obviously the highlights of Wimbledon 2017 were:
Roger Federer winning his eighth Mens Singles title.
Joanna Konta reaching the Ladies Singles semi-final.
Jamie Murray winning the Mixed Doubles with Martina Hingis.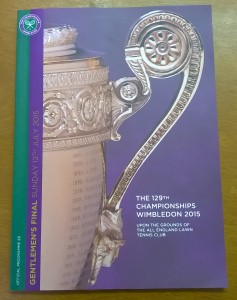 No repeat of Andy Murray's 2016 triumph.
Sad to see Andy Murray going out in the quarter-finals
against Sam Querrey.
The hip injury which had troubled him pre-Wimbledon
caused his fourth and fifth set collapse.
Novak Djokovic retired from his quarter-final
against Tomos Berdych and will not play again in 2017.
What a response to 'Back the Brits' at Wimbledon 2016.
British Champions crowned on dramatic final day.
Andy Murray hugs the Mens' Singles trophy.
Scotland's Gordon Reid won the inaugural Mens' Singles Wheelchair event with a superb straight sets win.  His topspin backhand was awesome and the decisive factor in a close contest.
Scotland's other Braveheart Andy Murray emulated his fellow countryman with a brilliant straight sets win over Milos Raonic in the Mens' Singles final. Andy won 6-4, 7-6 (3), 7-6 (2). Andy dismantled the Canadian's serve and exposed his poor slice approaches on numerous occasions with devastating passing shots. This was a contest between the World's biggest server and best returner. Andy Murray was just too good and too professional on the day, reading Lendl's notes at each changeover.
'I can't stop smiling. I just can't describe how happy I am', was Heather Watson's reaction to winning the Wimbledon Mixed Doubles with partner Henri Kontinen. They won 7-6 (5), 6-4.
Jordanne  Whiley was the fourth British Wimbledon Champion to be crowned today winning the Women's Wheelchair Doubles.
Congratulations to you all the 2016 British Wimbledon Champions.
Day 1.
Britain's Marcus Willis and Dan Evans win their opening rounds in the 2016 Mens' Singles.
Willis' tour earnings of £220 have now increased to £50,220, with Roger Federer his next opponent in round two.
Dan Evans, part of Britain's victorious Davis Cup squad, overcame a nasty fall to record an excellent victory in four sets.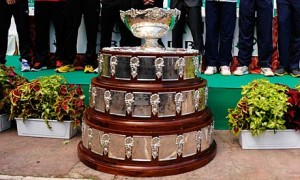 Andy Murray plays tomorrow against fellow Brit Liam Brody.  Joanna Konta and Heather Watson are also in first round action; and Heather will be looking to repeat last year's excellent run in the tournament.
All Our Yesterdays recently acquired a copy of 'Seventy Seven', a book which brilliantly records Andy's two Grand Slam victories and Olympic triumph.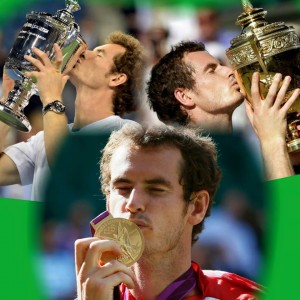 Laura Robson sadly went out to Kerber in the first round of the Ladies Singles.  Laura would do well to consider dropping down a tournament level to record such much-needed victories.  This can only boost her confidence during this traumatic stage of her career.  The great Andre Agassi did this some years ago.
Novak Djokovic admits asking for a few extra Wimbledon Towels so he can pass them on to friends. After winning the first nine games of his match against Britain's James Ward, he had hardly broken sweat.  A Ward revival of sorts made the Wimbledon Champion work a little harder, but Novak cruised through in straight sets.
Novak Djokovic has been smuggling the much-prized and hyper-expensive Wimbledon towels out of the All England Club.
Keep an eye on Novak to see if he ever throws his towels into the crowd. I reckon he stashes a few extra ones into his bag and makes a quick exit. He certainly won't throw in the towel when he plays Andy in this year's final.
Days 2 and 3.
Both days have been badly affected by rain.
In the Battle of Britain, Andy Murray crushed a brave Liam Broady in straight sets on day 2.
On day 3 Britain's Marcus Willis played Roger Federer. After a first set whitewash, Willis played two good sets and gave the Centre Court crowd something to shout about. He eventually lost in straight sets to the Swiss Maestro.
Good news for Johanna Konta and Tara Moore.  Jo won her match against Monica Puig in straight sets to win her first match at the All England Club.  Hong Kong born Tara won her first ever match at Wimbledon.
Heather Watson was one set all in her match when rain intervened.  A good job  it did as Heather lost the second set 6-0.
Good to see that former Wrexham Tennis Academy player Matt Smith is coaching Marcus Willis.  Matt is doing a good job, well done.
Day 4.
Andy Murray met Lu in round two today.
He must have had a feeling of de ja vu as they met in round two in 2013; and we know what happened in that year. Andy predictably won in straight sets today and plays John Millman in round three.
Tim Henman believes that Marcus Willis and Dan Evans have seen how hard Andy trains and his incredible commitment to the sport. Andy's influence seems to be rubbing off. Willis made the second round and Dan Evans thrashed 30th seed Alex Dolgopolov, 7/6, 6/4, 6/1 in a match held over from yesterday. Well done Dan and congratulations to his coach Mark Hilton a former GB Davis Cup player.
Bad news for the British women at Wimbledon. Heather Watson lost 10-12 in the final set of her first round contest ; and Jo Konta crashed out to Bouchard in the second round, losing 1-6 in the final set.  Heather would do well to cancel her Twitter account and concentrate on her preparations for the US Open.
Tara Moore is the last British woman standing in the 2016 Ladies Singles.
Day 5.
Bad day for the Brits and Djokovic.
Dan Evans crashed out in three straight sets losing to the great Roger Federer.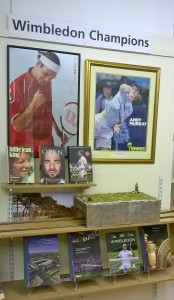 Tara Moore in the Ladies Singles lost in three sets to Kuznetsova.
Andy Murray is now the only Brit left in the singles events.
Good news for Andy, Djokovic is two sets to love down to Sam Querrey. Their match will continue tomorrow and there will be play on the middle Sunday of the Championships this year.
Day 6.
Shock of the Championships.
Novak Djokovic crashed out of Wimbledon 2016 with a shock defeat to Sam Querrey. A third set comeback was quashed by Querrey who won the fourth set breaker 7-5 to knock out the 2015 Wimbledon Champion.
This was Novak's first defeat in 31 Grand Slam matches, after 30 consecutive Grand Slam winning matches and four consecutive winning slams in a row over two Tennis seasons.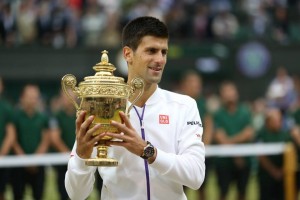 Good news for Britain's Davis Cup hopes, Novak has withdrawn from Serbia's Davis Cup Squad for their forthcoming match with GB.
Andy  Murray cruised into the round of 16 with a straight sets win over Australia's John Millman and could face the mercurial Nick Kyrgios  on Monday.
Day 8.
Murray masterclass crushes Kyrgios in straight sets.
Andy Murray battered Nick Kyrgios in a one-sided three set match to advance to the quarter-finals on Wednesday against Tsonga, who had a quick win over Gasquet who had to retire with a back injury.
After a tight first ten games Andy put his foot down and took the opener 7-5.
Kyrgios then faded away in a very one-sided second set, losing it 6-1 and Andy cruised to victory 6-4 in the third set.
Andy was too professional, too cool and just too talented on the day.
On the other side of the draw Roger Federer looked in ominous form with a straight sets win and now plays Cilic in the quarter-finals. This will be an interesting match between two very gifted grass-court players.
Day 9.
All Williams Ladies final a distinct possibility.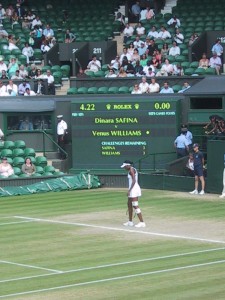 Venus Williams renaissance continues, she plays Australian Open winner Angelique Kerber in the semi-final.
Venus, at 36, is the oldest Grand Slam semi-finalist for 22 years.
Sis Serena plays Elena Vesnina in Thursday's other semi-final.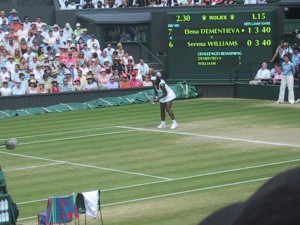 Day 10.
Roger Federer defeats Cilic in five-set thriller to set up a semi-final clash with Raonic.
Andy Murray struggled past Tsonga in five sets, losing a two sets to love lead, before winning the final set 6-1 to set up a semi-final with Berdych.
We could be looking at a Federer/Murray final on Sunday. A mouth-watering prospect. This will be a repeat of the 2012 final, which Murray lost to Federer.
Day 11.
Ladies semi-finals day and there will be no Williams sisters final on Saturday.
Serena thrashed Vesnina 6-2, 6-0, whilst Angelique Kerber defeated Venus 6-4, 6-4, to set up a repeat of the 2016 Ladies Australian Open final.
Good news for Heather Watson fans she is through to the fourth round of the Mixed Doubles. Well done Heather.
Heather in action at last year's Wimbledon.
Day 12.
Raonic and Murray to meet in the Mens' Singles Final on Sunday.
The Federer Express was derailed by Milos Raonic, who defeated Roger Federer in five sets in the first Mens' Singles Semi-Final.
Andy Murray was back to his best in the other semi, crushing Tomos Berdych, 6-3, 6-3, 6-3.
Heather Watson  cruised into the Mixed Doubles Semi-Final. Watson and Kontinen won  6-3, 6-2 in their quarter-final match today .
Day 13.
Serena Williams is the Ladies Singles Champion for 2016.  She defeated Angelique Kerber in straight sets this afternoon.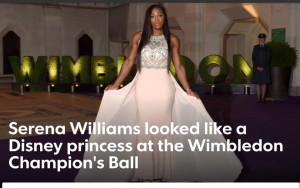 Serena will be at the Wimbledon Champions Ball again this year.
Two Brits will compete on the final day of the Wimbledon Championships.
Andy Murray, having tormented Tomos Berdych with wicked lobs and passing shots will grace the Mens' Singles final; and Heather Watson will feature in the Mixed Doubles final having won her semi with Henri Kontinen this afternoon.
Good luck to both players and remember to 'Back the Brits'.
Andy Murray's Centre of Tennis Excellence.
2013 Wimbledon Champion Andy Murray should concentrate on building his own Tennis Academy or Centre of Tennis Excellence in Florida. Slamming the LTA is a waste of his time and energy.  Andy, you've been there, done it, got the t-shirt. Pass on your wonderful knowledge and experience to Britain's Tennis wannabees.
The Andy Murray Tennis Academy could be the hub where all of Britain's best Tennis players could share his successful programme.
Kyle Edmund has already benefitted from working in Florida with Andy and at the latter's training base.
Laura Robson, Heather Watson and Joanna Konta could also work out there.
Now the Murrays have had their first child, Andy would do well to think about this project.
Mother Judy has worked for years within the British Tennis system and could help provide British players for the academy. When Andy does his training blocks in Florida other British players could join him. Edmund would really benefit from this as would Marcus Willis and Dan Evans.
Andy has now won Grand Slams, Olympic Gold and the Davis Cup for Britain.
We have seen how he galvanised Laura Robson when they played Mixed Doubles together at Wimbledon. Laura is someone who is rapidly fading off our radar.
Being within Andy's training environment can only benefit players whether they are there periodically or on a permanent basis.
Andy Murray is the British Tennis Talisman at present.
His setting up of an academy would benefit so many British Tennis players.
Andy, you can be the figurehead and  be largely responsible for the appointment of the best possible coaches, psychologists, dieticians, fitness gurus, strength specialists to augment your staff.
You've done it, please do this for the British youngsters who would love to be Wimbledon Champions.
Wimbledon 2015.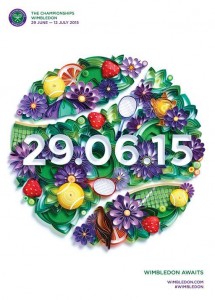 New Boris Becker book is now available to read at All Our Yesterdays.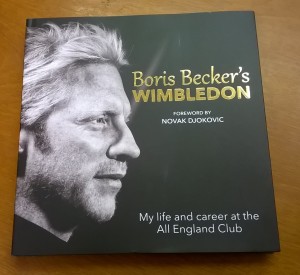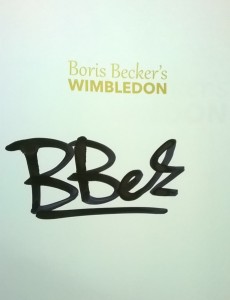 Wimbledon 2015 Highlights.
Mission Impospisil as Vasek succumbs to the Murrays.
Vasek Pospisil lost to Andy Murray in the Wimbledon quarter finals on Wednesday.
Brother Jamie had beaten Vasek in the doubles the previous evening.
Andy v Roger Federer in the semi-finals.
Richard Gasquet defeated Stan the Man Wawrinka 11-9 in the fifth set.
Richard faced Novak Djokovic in the other semi-final.
Could Andy avenge his defeat to Roger in an emotional 2012 final?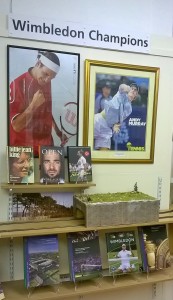 Roger Federer left, Andy Murray right, in our Wimbledon Champions display.
2015  Mens' Semi Final Showdowns.
Unstoppable Roger crushes Andy in straight sets.
Novak too good for Gasquet in first semi-final.
Quite a final in prospect if the semis are anything to go by.
Mens Singles Final.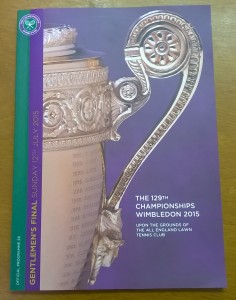 Novak back on track as Federer Express hits the buffers.
Novak Djokovic won 7-6, 6-7, 6-4, 6-3 to claim the 2015 Mens Singles title.
He went on to predict many more Grand Slam titles.
Coach Boris Becker must take great credit for Novak's third Wimbledon title.
Serena on course for Calendar Grand Slam.
Potential Calendar Slam champion Serena Williams saw off her sister Venus.
Heather Watson's performance against Serena was awesome.
Serena defeated Victoria Azarenka in her quarter-finals.
Setting up a mouth-watering semi-final clash with Maria Sharapova
Radwanska played Muguruza in the other semi-final.
Maria no match for superior Serena.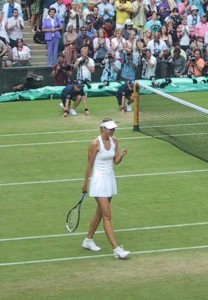 Serena Williams powered into the Ladies Singles Final.
Straight sets win over Maria Sharapova, pictured above.
Serena, practising her formidable serve in the picture below.
She would play Garbine Muguruza in the Ladies Singles final.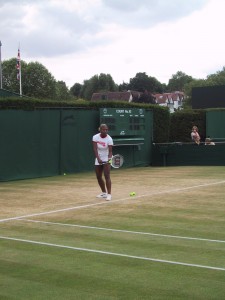 Serena on course for Calendar Grand Slam.
Serena Williams duly won her third Grand Slam title this year.
She defeated a very resolute Garbine Muguruza 6-4, 6-4 in the Wimbledon Final.
Serena acknowledged that Garbine would one day hold the Rose Water Dish.
Other Highlights.
Dustin Brown sends Rafa out of town.
Qualifier Dustin Brown dumped Rafa Nadal out of Wimbledon 2015. What now for Rafa?
John McEnroe thinks he should change his coach. John Lloyd thinks he should hire a super coach like Becker, Lendl or Edberg.
What do you think?
Murray in a hurry. No Haasel for Andy Murray as he dropped only six games to cruise into round 3. James Ward joined him having won in four sets against Vesely.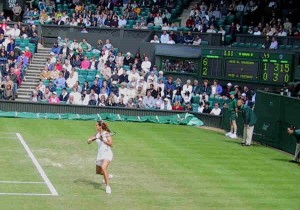 In Wimbledon Champions we feature:
Petra Kvitova, Ladies Singles Champion, 2014.
Andy Murray, Roger Federer,
Andre Agassi, Steffi Graf,
Ann Jones, Virginia Wade, Dorothy Round,
Pete Sampras, Rod Laver,
Goran Ivanisevic and Fred Perry.
Great new book on Wimbledon 2012 from Steve Scarff. Many thanks.
Well worth a visit.
Name the former Wimbledon Champions in the pictures?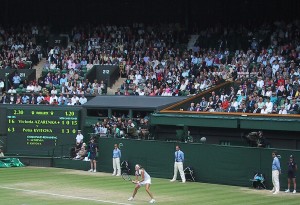 Find the famous pop star spending his 'Summer Holiday' at Wimbledon?
Latest addition to our Wimbledon Champions Library.
A book on Chris Evert Lloyd.
Chrissie was Ladies champion in 1974, 1976 and 1981.
Please note the Wimbledon Championships start a week later this year.
All Our Yesterdays visits a Real Tennis Court.
Real Tennis was the forerunner to Lawn Tennis.
Made popular by King Henry VIII in Britain.
He played Real Tennis at Hampton Court, London.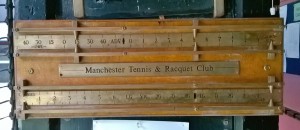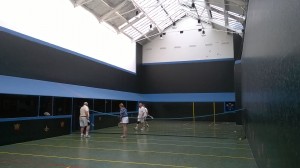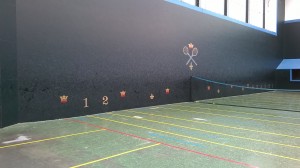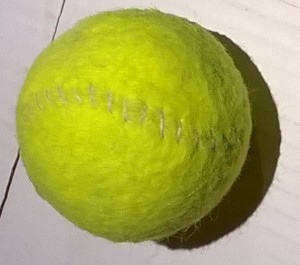 A Real Tennis Ball.
A big thank you to Manchester Tennis and Racquet Club.
We thoroughly enjoyed our visit to your club.
In our new Wimbledon Champions display we include three autobiographies.
We feature Billie Jean King, Andre Agassi and Rod Laver.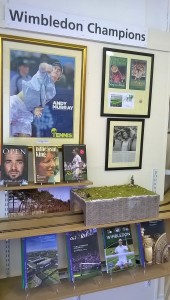 Serena Williams & Novak Djokovic 2015 Wimbledon Champions.