Wimbledon Championships 2023.
Alcaraz does it in five.
Young Spanish Wizard is the new
Wimbledon Men's Champion.
In a five set thriller, littered with great strokes
and too many errors from both players,
Alcaraz won:
1-6, 7-6 (8), 6-1, 3-6, 6-4.
Djokovic's mediocre serving
cost him the title.
He smashed his racket
 against a net post
and received a code violation.
Just to let Todd Woodbridge know,
Roger Federer defeated Pete Sampras
in the round of sixteen in the 2001 Wimbledon
Championships the year Tim Henman lost to Ivanisevic
in the Wimbledon semi-final
which took place over three days.
Goran Ivanisevic pictured below in 2001.
Copyright Charles Eaves.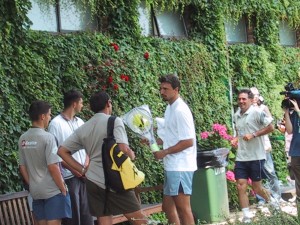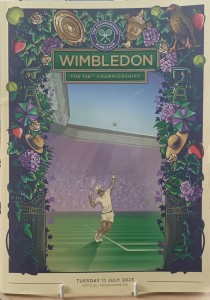 Day 14 dawns.
Can Djokovic extinguish the Alcaraz fire and finesse?
Novak is going for his 24th Grand Slam triumph
and today he could match Roger Federer's
eight Wimbledon Trophy wins.
An intriguing battle awaits us at SW19.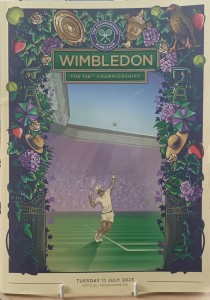 Day 13.
 Ladies Singles Finals Day.
Unseeded Marketa Vondrousova of the Czech Republic
won her first Wimbledon Ladies Singles title
defeating Tunisia's Ons Jabeur 6-4, 6-4.
Jabeur is therefore runner-up
in the Ladies Singles event for the second year running.
Perhaps it will be third time lucky for Ons next year.
We hope Marketa's cat Frankie 
was well-behaved for the Cat Sitter during the final.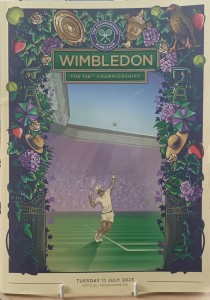 Day 12.
Djokovic docked point for hindrance offence,
but still wins his semi-final in straight sets.
Italy's Sinner gave a good account of himself in the first
Mens Singles semi-final on Friday,
14th July, 2023 at Wimbledon 2023.
Djokovic won the match 6-3, 6-4, 7-6
to book a place in Sunday's men's singles final.
Djokovic will meet Carlos Alcaraz
who battered Russia's Medvedev
in a rather one-sided
second men's singles semi-final.
Alcaraz won in straight sets
6-3, 6-3, 6-3 to join Djokovic
in the men's singles final.
Can Novak conquer the Alcaraz power?
All will be revealed on Sunday, can't wait.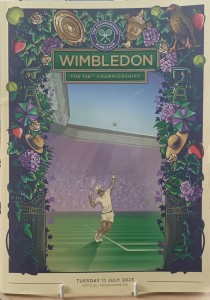 Artificial Intelligence Commentators
may be the way forward.
This innovation is sadly indicative
 of the dire standards of commentary
during the BBC's coverage of Wimbledon 2023.
Tim Henman, John McEnroe and Tracy Austin are excellent,
but sadly the rest are not up to the mark.
Some may be ok on Breakfast Television
but please keep them away from
commentating on Tennis matches at Wimbledon.
They show a distinct lack of knowledge
and show little interest in the events which are taking place
on the Tennis Courts of SW19.
Robert Shrigley Woolf could write a song
about this new phenomenon.
Perhaps 'Lack of Tennis Intelligence'
could be a very apt title for such a tune.
Day 11.
Ons Jabeur fought back to secure a place
in Wimbledon's 2023 Ladies Singles Final.
Jabeur came from a set down to win
6-7 (5), 6-4, 6-3.
In the other Ladies Semi-Final
the Czech Republic's Vondrousova
defeated the Ukraine's Svitolina
6-3, 6-3.
Jabeur has lost to Vondrousova
on two separate occasions this year
so it should be an interesting Ladies Final
this coming Saturday.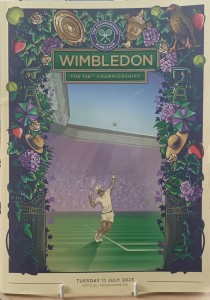 Day 10.
Resilient Medvedev proves too strong
for swashbuckling Eubanks.
It took five sets to subdue Chris Eubanks
who sadly blew up in the fifth set
losing it 6-1.
Alcaraz in the other quarter final defeated
Denmark's Rune in three sets to set up
a semi final with Medvedev.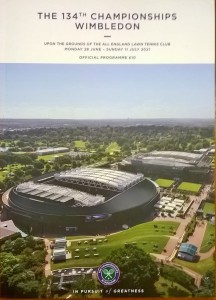 In the remaining Ladies singles quarter finals
Jabeur defeated Rybakina
and Sabalenka defeated Keys.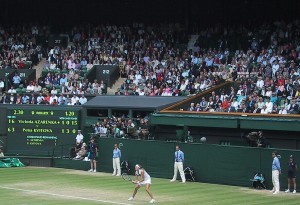 Preview of Day 10 at Wimbledon 2023.
Please take a look at the 'Wrecking-ball forehand'
owned by America's Chris Eubanks.
Britain's Cam Norrie,
Greece's Stefanos Tsitsipas,
have had their Wimbledon hopes demolished.
Will Medvedev be the latest victim?
Watch this space?
Alcaraz and Rune should be a tasty encounter.
Jabeur versus Rybakina in the Ladies Singles
is a repeat of the 2022 Ladies Final.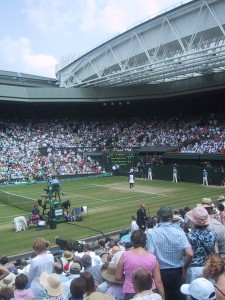 Day 9 At Wimbledon 2023.
Italy's Sinner and Croatia's Djokovic
 into Men's Singles Semi-Finals.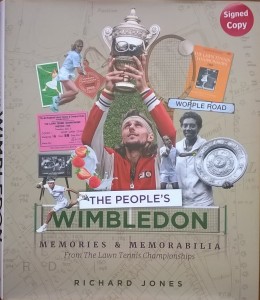 In the Ladies Quarter Finals,
the Ukraine's Svitolina defeated Poland's Swiatek
in three sets to book a place in the Ladies
Singles Semi-Final.
In the day's other Ladies Singles Quarter Final
the Czech Republic's Vondrousova
defeated the USA's Pegula to advance to the semi-final.
Really looking forward to Day 10 at Wimbledon 2023.
There should be some great match-ups.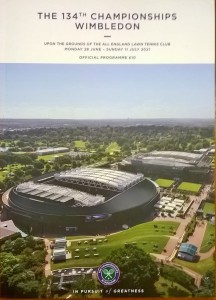 Day 8.
New kids on the block at Wimbledon 2023.
Chris Eubanks defeats Tsitsipas in five sets.
Alcaraz defeats Berrettini to set up quarter final with Denmark's Rune.
Rybakina through after opponent retires.
She will now play Ons Jabeur
in the quarter-finals a repeat of the
2022 Ladies Singles final.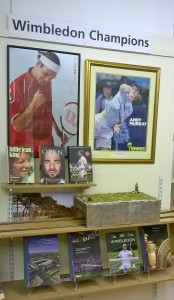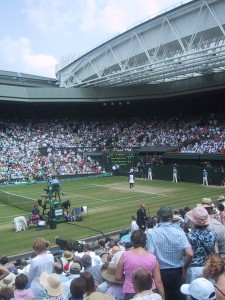 Days 5 and 6.
No British players remain in singles events at Wimbledon 2023.
Andy Murray lost in five sets to Tsitsipas who thoroughly deserved his victory.
Cam Norrie was out-served by American Chris Eubanks.
Liam Broady lost his four set clash
with Canada's Shapovalev.
Sadly, Katie Boulter could not cope with
last year's Wimbledon Champion Rybakina
and lost 6-1, 6-1.
This was a very disappointing end to what had been an encouraging week for British Tennis.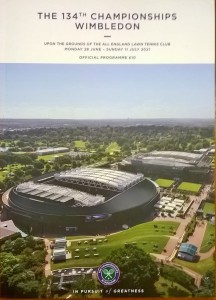 Day 4 at the Wimbledon Championships 2023.
Katie Boulter and Liam Broady
through to third round of their respective singles events.
Andy Murray is two sets to one up on Tsitsipas.
He will resume his match on Friday.
Back the Brits.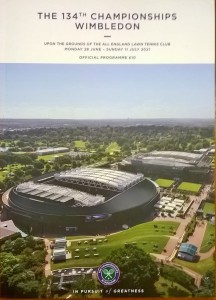 Day 3 at Wimbledon 2023.
Katie Boulter is Britain's only winner
on day 3 at Wimbledon 2023.
Katie Boulter defeated Daria Saville
7-6, 6-2 in the rained delayed first round
Ladies Singles match.
Sadly Jodie Burrage and Heather Watson
could not back up Katie Boulter's success.
Jodie and Heather both lost in straight sets.
Mens Singles. 
Britain's Arthur Fery ponders his Stanford University future
after impressive Centre Court display against number three seed
Daniil Medvedev.
Fery lost in straight sets but put up a very creditable show
and some have suggested he goes full-time on the tour immediately.
Finish your studies first mate and then turn pro.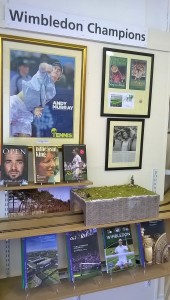 Andy Murray to headline Day 4.
Andy Murray faces Stefano Tsitsipas in round two of the Men's Singles
on day four of the championships.
Should be well worth a watch.
See you again tomorrow for more updates.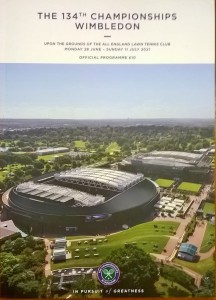 Day 2.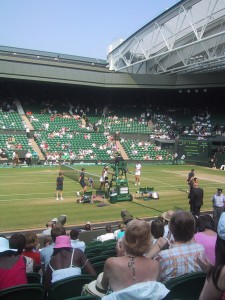 In a rain-affected second day Andy Murray and Cam Norrie
progressed to the Men's Singles second round.
Sadly Dan Evans lost in four sets in his match carried over from Monday.
Katie Boulter will resume her match on Wednesday 5-6 down in the opening set.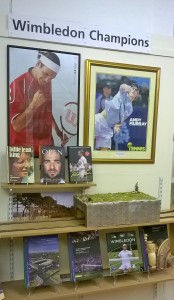 Great to see former Men's Singles Champion
Roger Federer back at Wimbledon this week.
Day 1.
Britain's Jodie Burrage, Jan Choinski and Liam Broady
win their opening round matches in Wimbledon 2023.
BBC Commentary a disgrace on Katie Swann match
on first Monday of the Championships.
Some wonder why we can't produce
a Wimbledon Ladies Champion in the UK.
You only had to listen to the commentary on Katie Swann's
match with Bencic to understand why.
Katie put up a good fight in the opening set
but lost it 7-5.
At two all in the second there seemed some hope of a comeback
but unfortunately Katie couldn't hold her serve and lost the second set 6-2.
Having been a Tennis Coach for 25 years
and knowing how difficult it is for
our women to break through into the World's top hundred,
I don't want to hear such negative and pathetic
commentating again particularly when Jodie Burrage
takes to the court for her second round match.
Shame on you BBC.
A visit to the Wimbledon Championships.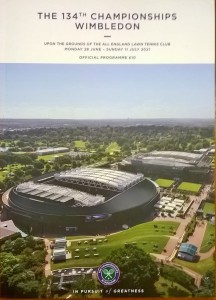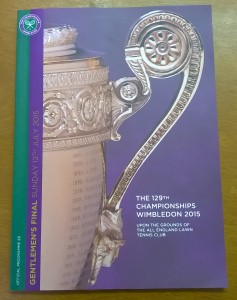 Please view our fantastic collection
 of Wimbledon programmes and books.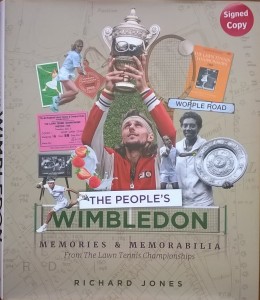 You can view this amazing publication at
All Our Yesterdays, 14 Greenfield Road, Colwyn Bay.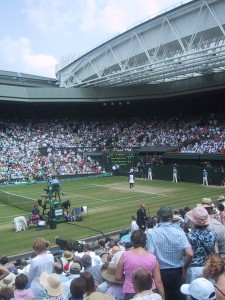 The Centre Court Roof.
No Centre Court Roof when Goran Ivanisevic
became  Mens Singles Champion, 2001.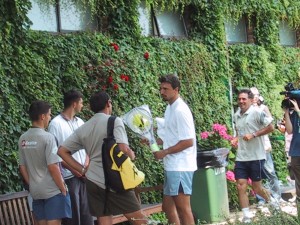 Serena Williams Ladies Singles Champion.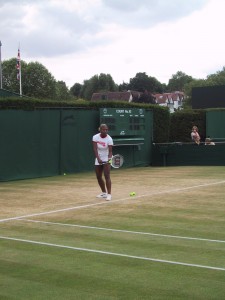 Wimbledon Champions displays in All Our Yesterdays.
We feature Roger Federer and Andy Murray.