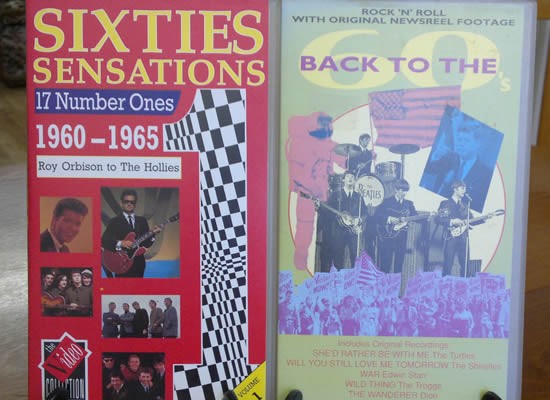 Three great Pop Music decades.
Click on Colwyn Community Radio to hear Music from these decades.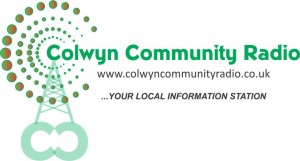 This display includes:
Great items like this Stevie Nicks signed Tambourine.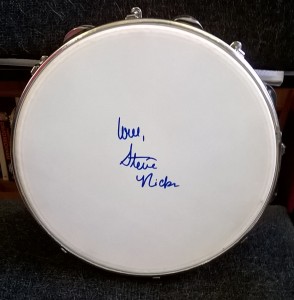 Album covers, Pop charts, song books, magazines & videos.
Signed copy of 'My Book Of Genesis' available from All Our Yesterdays.
Signed by:
Mike Rutherford,
Richard Macphail (Author),
Tony Banks,
Peter Gabriel,
Steve Hackett.
Sensible offers are invited.
e-mail: charles.eaves@btinternet.com
Visit www.onthisday.com/music for a little bit of Musical History.
The Woodstock Festival 1969.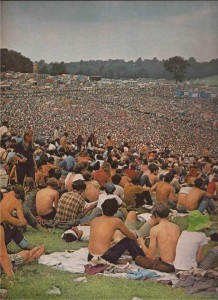 Do you remember the Radio 1 Road Shows in Colwyn Bay?
Many thanks to Dave Roberts
for the black and white photographs.
Click on photo to enlarge.
Recognise anyone in the photos?
This first black white photo
has been identified by
David Edwards.
He tells us that it was taken on:
25th August 1980
and the DJ was Dave Lee Travis.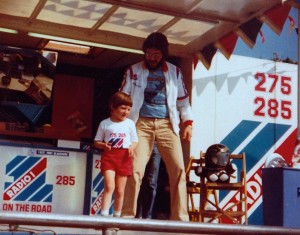 Photo by David Edwards.
Can anyone identify the little boy
with DLT in the picture?
He's probably in his late 40s now.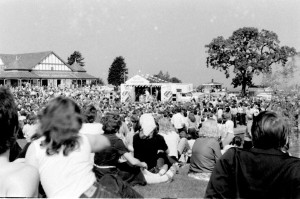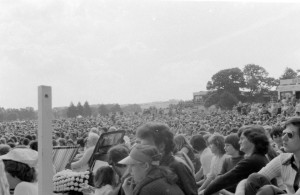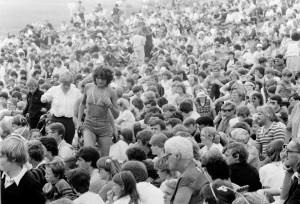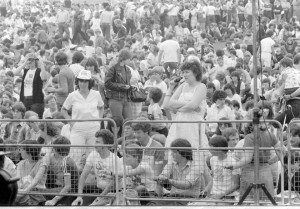 This photo shows a guy wearing a
'Roadshow 10 Year Anniversary'
t-shirt on the left of the photo.
This would date the photo to
30th July, 1982
and the Roadshow DJ was Simon Bates.
(Info from David Edwards).
Our latest album addition to our Sounds of the 60s display.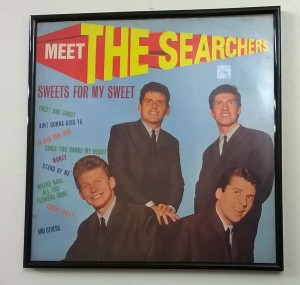 Two new additions to the Sounds of the 70s display.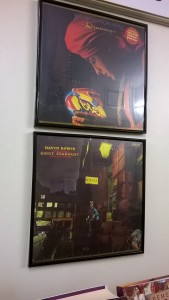 'Discovery' by ELO and 'Ziggy Stardust' by David Bowie.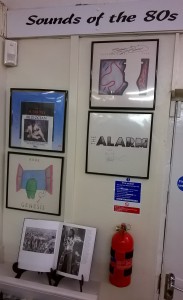 Autograph corner featuring:
Billy Ocean, Mike Rutherford,
Tony Hadley and Mike Peters.
Gerry Marsden signs for All Our Yesterdays at Venue Cymru.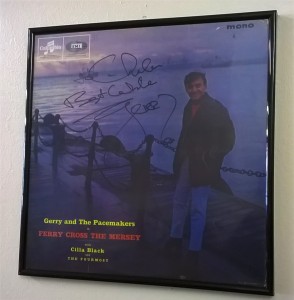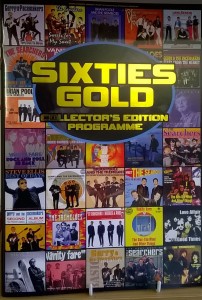 The Sixties Gold Concert was brilliant.
A full house were privileged to be entertained by:
Gerry Marsden on his last tour,
Brian Poole and the Tremeloes,
Steve Ellis the voice of Love Affair
and the fantastic Searchers.
The Beatles in North Wales.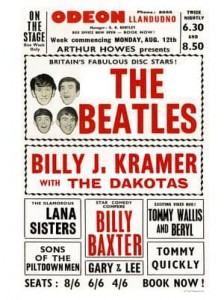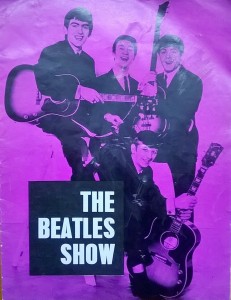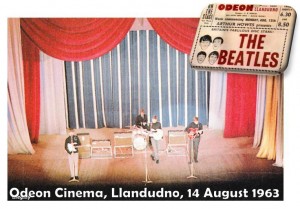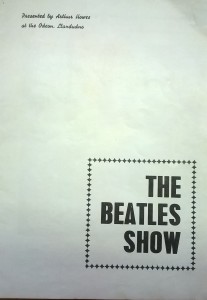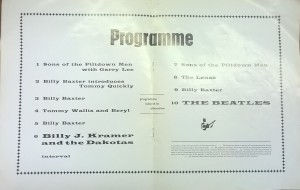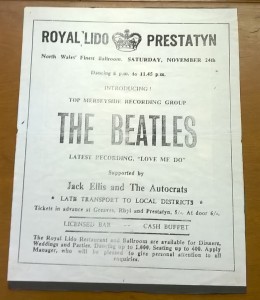 Brilliant advert advertising a Beatles gig in 1962.
Held at the Royal Lido, Prestatyn.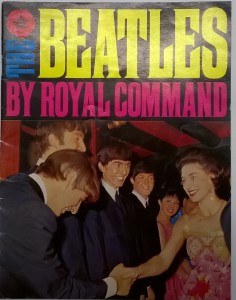 Early Yardbirds album is on sale at All Our Yesterdays.
Featuring a young Eric Clapton in the centre of the picture.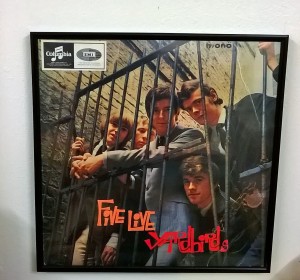 New book on Rock Album Covers.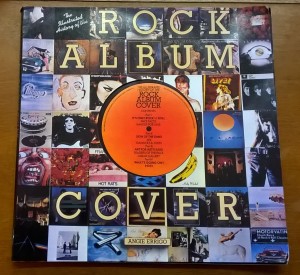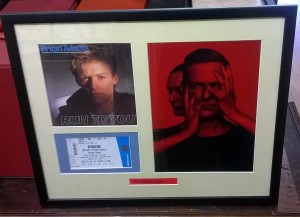 Our Bryan Adams 2017 Concert presentation.
Created in the Summer of 2017.
You can run to All Our Yesterdays to view it.
You would be on 'Cloud Number Nine' if you bought this.
But remember:
'Everything we do, we do it for you'.
Bryan Adams live at Parc Eirias, Colwyn Bay,
Sunday, 9th July, 2017.
Great album cover from the 1960s.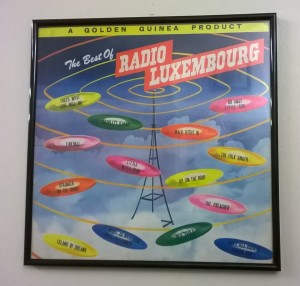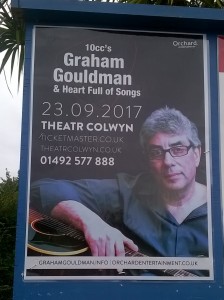 Graham Gouldman to appear in Colwyn Bay.
Graham wrote 'For Your Love' made famous by the Yardbirds.
'Look Through Any Window' and 'Bus Stop' for the Hollies.
'No Milk Today' for Herman's Hermits.
'Pamela Pamela' for Wayne Fontana.
Graham co-wrote 10cc's hits:
'The Wall Street Shuffle',
'I'm Not In Love',
'Dreadlock Holiday'.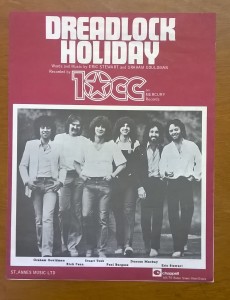 Graham will be at Theatr Colwyn on 23rd September, 2017.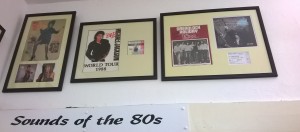 Graham and his band signed our albums,
programme and Dreadlock Holiday song sheet.
They hang above our Sounds of the 80s banner.
Our latest addition to Sounds of the 80s is seen below.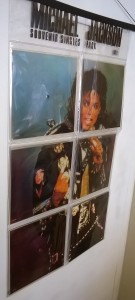 Michael Jackson's 1988 BAD UK Tour is being featured in this display.
We have above a five disc souvenir from the above tour.
Michael appeared at Roundhay Park, Leeds and Aintree Racecourse.
Below is the programme and ticket from the Leeds gig.
These two excellent pieces of memorabilia are up for sale.
New Sounds of the 70s display featuring:
T.Rex, Mott The Hoople, The Who and Steve Harley.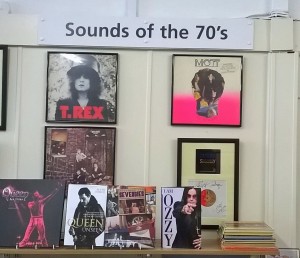 We also feature Queen and Ozzy Osbourne.
New Sounds of the 80s display featuring Colwyn Bay bound
Bryan Adams.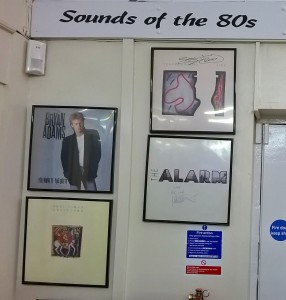 Brilliant Billy Ocean opens 'Here You Are' tour in Llandudno.
Billy signed our singles and programmes after the show.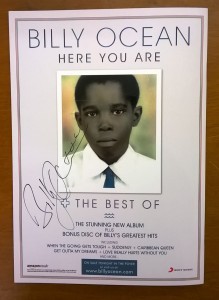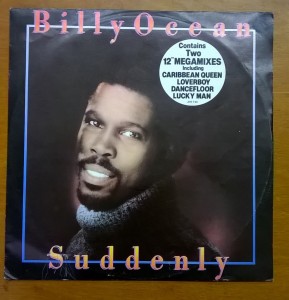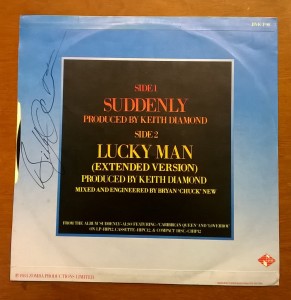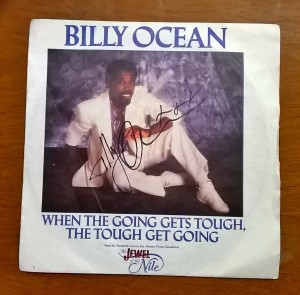 Mike Rutherford signs our 'Duke' album.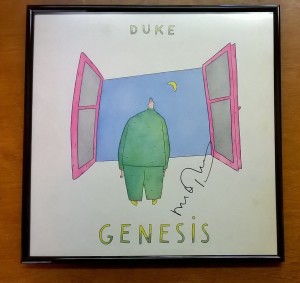 Two great new books can be found
in Sounds of the 70s.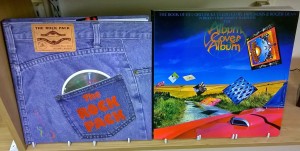 Two great new additions to our 'Sounds of the 60s' display.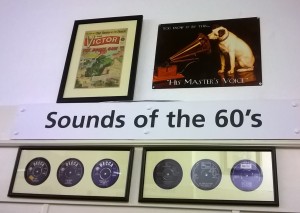 All Our Yesterdays has obtained Dennis Locorriere's autograph.
Dennis kindly signed memorabilia for fans at Venue Cymru.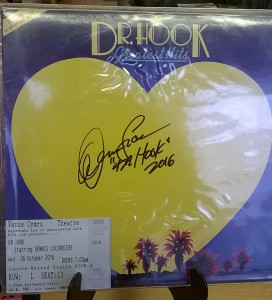 Dennis's Timeless World Tour, 2015-2016, programme,
 can now be found in our 'Theatre Critique' display, bottom row.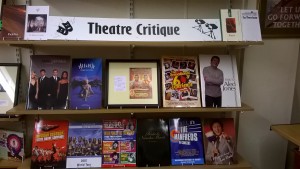 Great night at the 60s Gold Concert at Venue Cymru, Llandudno.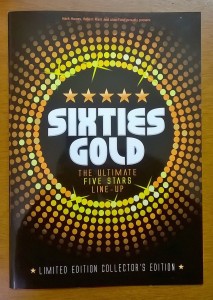 Wednesday, 5th October, 2016.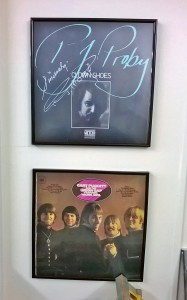 P.J. Proby, Gary Puckett and Wayne Fontana signed our albums.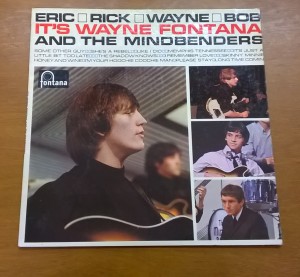 Spandau Ballet's Tony Hadley signs for All Our Yesterdays.
We are now featuring the great Eric Clapton.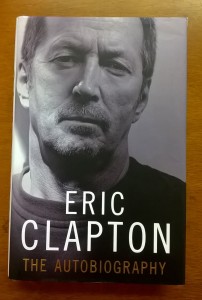 The Cream of Eric Clapton spans our three Musical Decades.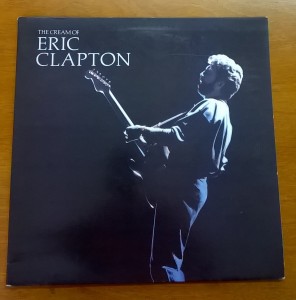 Probably the largest tour programme ever produced:
Roger Whittaker's Tour Programme from 2004/2005.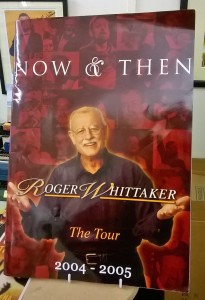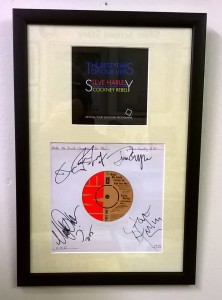 Steve Harley and Cockney Rebel signed for All Our Yesterdays.
Two great new albums have reached us at All Our Yesterdays.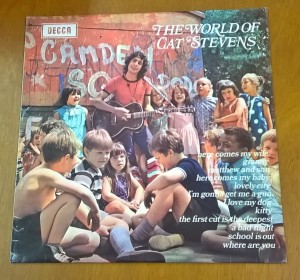 This Cat Stevens album features 'Matthew and Son' and 'I Love My Dog'.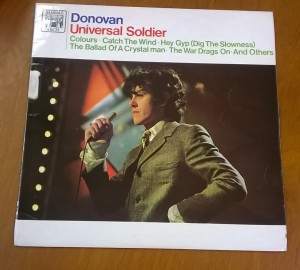 60s superstar Donovan has become the latest addition to Sounds of the 60s.
Why not visit our very own Beatles 'Magical Mystery Tour'.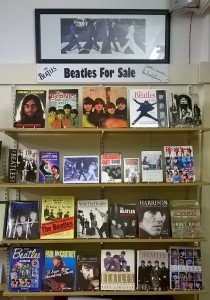 If you need 'Help'.  Ask.  Don't 'Let It Be'.
'Get Back' to us asap.
Price problem?
'We can work it out'.
There's no need to 'Twist and Shout'.
Pictures, posters and much much more,
Come inside for our Fab Four,
Treat in-store.
  Steve Harley gig at Venue Cymru, Tuesday, 3rd November, 2015.
 Steve and three members of his band signed autographs for fans.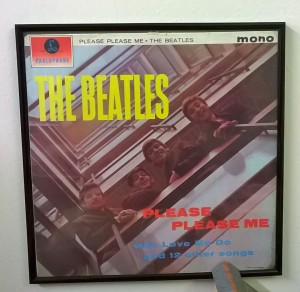 Our latest addition to the Sounds of the 60s display.
This was the Beatles' debut studio album.
Rush released on 22nd March, 1963.
This was to capitalise on singles hits:
'Please Please Me'
and
'Love Me Do'.
This display also features an early Jimi Hendrix album.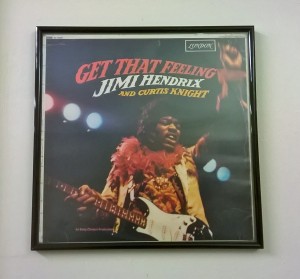 Jimi was a member of Curtis Knight and the Squires.
Jimi and Curtis lived in the same apartment block in NYC.
The above album contains early Hendrix material.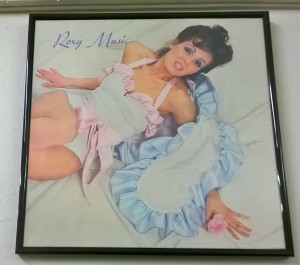 Not Roxy Music's best album, but a glamorous cover.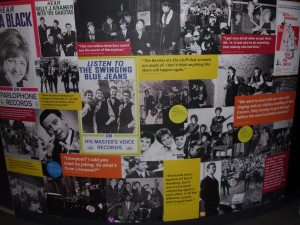 The Merseybeat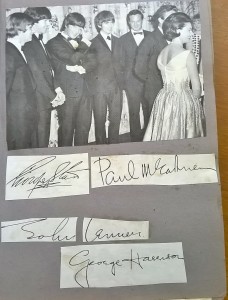 The Beatles with manager Brian Epstein.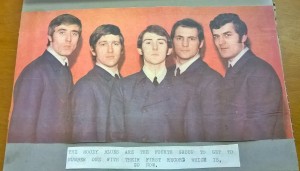 The Moody Blues.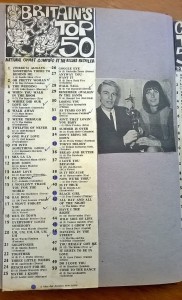 A chart from the mid 60s.
Adam Faith and Sandy Shaw on the right of picture.
How about this for a line-up?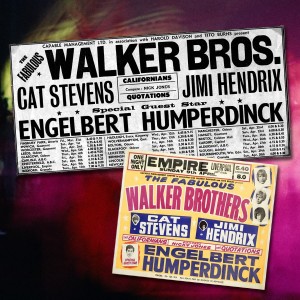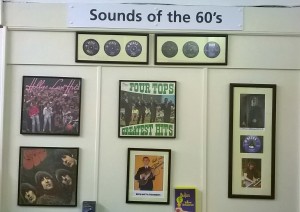 Sounds of the 60s display.
We now include the Hollies Live Album,
Four Tops Greatest Hits,
The Beatles' Rubber Soul, probably their best album.
I didn't have to go on a Ferry cross the Mersey to get Gerry's autograph.
Rare Rolling Stones article from the 60s, plus autographs.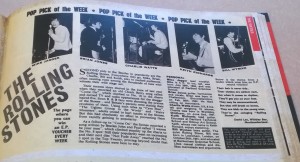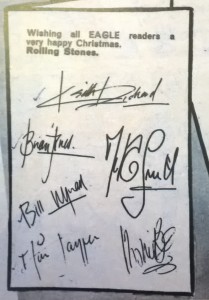 Great and Rare Rolling Stones Albums.
Top: Their Satanic Majesties Request. Bottom: Exile on Main Street.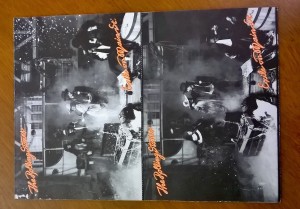 Exile On Main Street postcards, 12 in all.
Both albums for sale @ All Our Yesterdays.
 Sir Elton John at Eirias Stadium, Colwyn Bay,  Saturday, June 6th, 2015.
Are you ready for Sir Elton John?
'Sacrifice' the Champions League Final to be there.
He could be playing 'Your Song'.
If not ' I guess that's why they call it the blues'!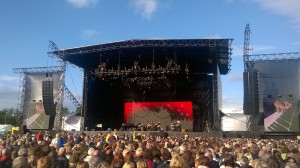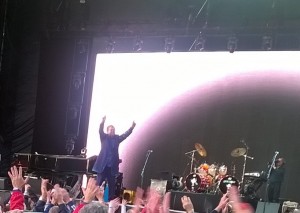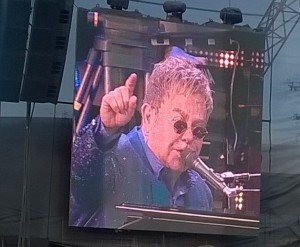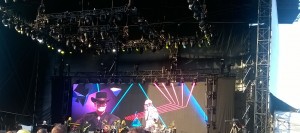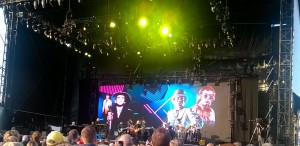 The many faces of Sir Elton John.
Live at Parc Eirias, Colwyn Bay,  June 6th, 2015.
New Sounds of the 70s display.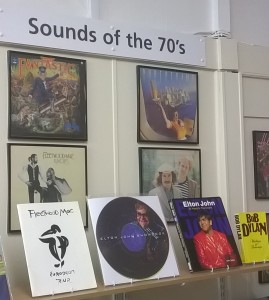 Elton John, Fleetwood Mac, Supertramp, Simon & Garfunkel. Bob Dylan.
Simon & Garfunkel split up in 1970,  just qualifying for this display.
At All Our Yesterdays you hear the best 60s, 70s & 80s sounds.