Well-received Boxing display featuring:
Ricky Hatton, Frank Bruno, Henry Cooper, Tyson Fury,
John Conteh, Mike Tyson and the great Muhammad Ali.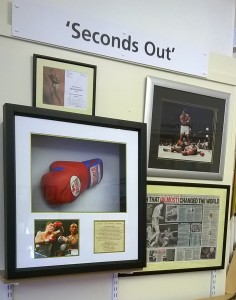 Tyson Fury at Llandudno's Venue Cymru.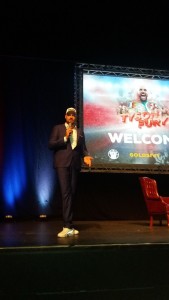 On Thursday, 8th September, 2022, a full house at Llandudno's Venue Cymru,
was treated to an enthralling and entertaining session with
the reigning WBC, Ring Magazine and lineal
heavyweight champion of the World,
Tyson Fury.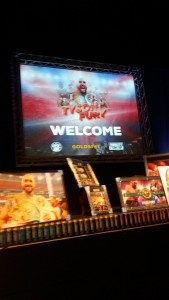 Tyson's father John gave us a fascinating insight into how
he made sure the young Tyson Fury and his brothers
had a roof over their heads,
were fed properly and also attended school.
Tyson then joined the show and told a packed audience
that from the age of 14 he wanted to defeat
World Boxing Champion Wladimir Klitschko.
This had always been Tyson's dream goal
and when it was achieved he found there was a void
in his Boxing career which was soon to cause him
numerous problems.
From 18 stone heavyweight to 28 stone overweight.
From being an eighteen stone heavyweight fighting machine,
Tyson became a 28 stone overweight.
There were alcohol and drug issues to contend with
but eventually he conquered these demons.
Deontay Wilder becomes the main target.
Tyson was determined to fight Wilder
and after months of severe training he thought he was ready
to take him on in Paradise, Nevada, USA.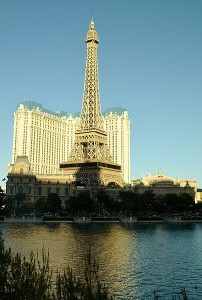 This was not a view shared by Tyson's wife and family.
Traumatic Videos.
Watching videos of Wilder proved very traumatic
for Tyson's wife, father and brothers.
They didn't want the fight to go ahead
as Wilder's punching was venomous.
Controversial Draw.
The contest did go ahead
and ended in a controversial draw.
This bout was the first of a trinity of fights
during which Wilder knocked Tyson
down on ten occasions.
Every time Tyson picked himself up,
dusted himself down and continued the fight.
After the three fights with Wilder,
Tyson was the WBC Heavyweight 
Champion of the World.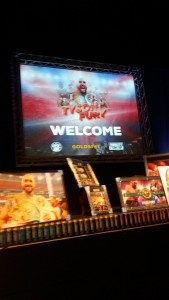 After his victory over Dillian Whyte
Tyson told the press  he had decided to retire from Boxing.
Tyson found retirement hard work
and returned to the ring once again.
Fury v Joshua is on the cards.
Tyson has challenged Anthony Joshua
to a 'Battle Of Britain' contest
with a 60-40 split purse.
Tyson wants the fight to take place
at the Principality Stadium in Cardiff,
in late November or early December 2022.
The venue has yet to be decided and Joshua
has yet to accept the challenge
at the time of writing this report.
Goodbye American Pie. 
To close an excellent evening of entertainment
we had a duet featuring Tyson
and the show's Geordie compere
singing Don McClean's
American Pie.
Very appropriate, as it was a case of
'Goodbye American Pie'
good evening UK
and welcome to the Fury/Joshua contest.
Watch this space as they say
for further news.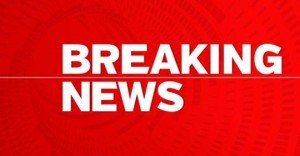 Lauren Price became the first Welsh Boxer
to win an Olympic Gold Medal
when she won the Women's
Middleweight Boxing Gold Medal
at the  Tokyo Olympics.
For more details
please click on
Up to the minute Boxing News
below.
Birmingham's Yafai wins Flyweight Gold
at Tokyo Olympics.
Full details on BBC link below.
Click on link below for latest Boxing news.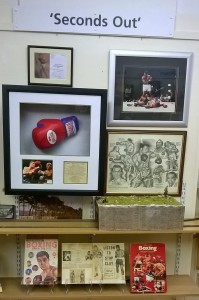 John H. Stracey has been added to this display.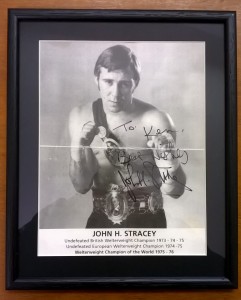 We feature the great bouts & fighters from 1950s, 60s and 70s.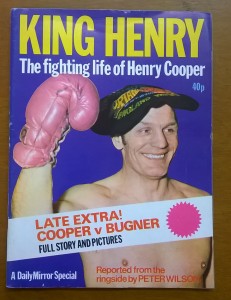 A new addition to our 'Seconds Out' display.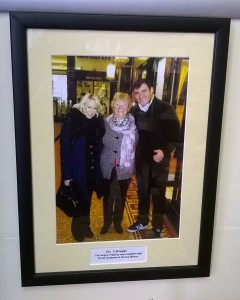 Joe Calzaghe outside a Paris night-club.
Joe is the longest reigning super-middleweight
World Champion in Boxing History.
Our new selection of Boxing Books is now on display.

 Viewing this most interesting display will take more than a few seconds.