Local Author Gary Hitches has joined us.
Gary has written an excellent book entitled:
'Blow Up the Irish Mail!'
which can be purchased at All Our Yesterdays.
William Morris Hughes Memorabilia package.
William Morris Hughes was educated in Llandudno and later became Prime Minister of Australia.
His story can be found in Peter Johnson's excellent book:
'A to Z of Llandudno' pictured below.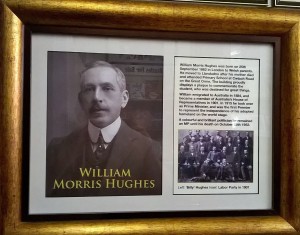 We are promoting
Terence James Novels
at All Our Yesterdays.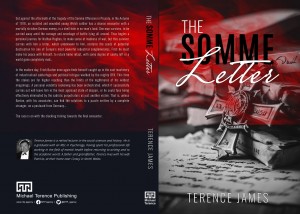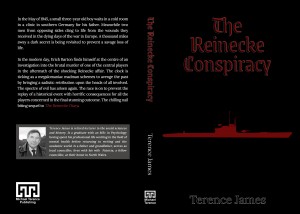 New book from Dave Southern and Paul Lawton.

Breaking News!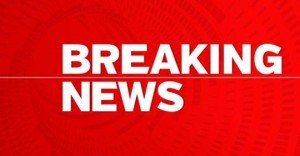 We have recently received a wonderful piece
of World Cup 1966 Memorabilia.
The pictures below feature the West German
Football Squad for the 1966 World Cup in England
and a fantastic collection of autographs
including Helmut Haller,
Franz Beckenbauer and West German Captain
Ewe Seeler who captained West Germany in the 1966
World Cup Final which was won by England.
Sensible offers are invited.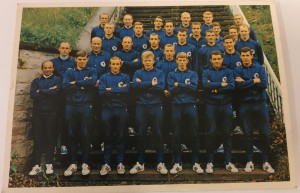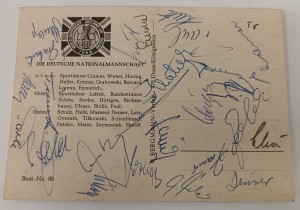 Interested in Crime Novels?
Charlie Seiga's books are a must read.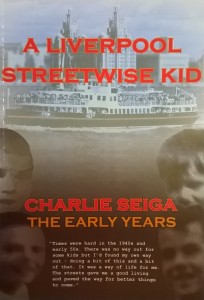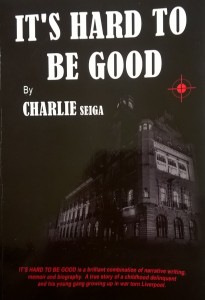 Please visit All Our Yesterdays,
14 Greenfield Road, Colwyn Bay,
Conwy, LL29 8EL
to examine and purchase
these excellent books.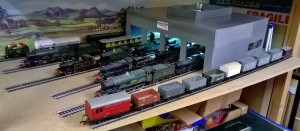 Our new Motive Power Depot 
has now been put on display.
Tony Williams has done a fantastic job
and the Depot even lights up.
Many thanks Tony for your brilliant work.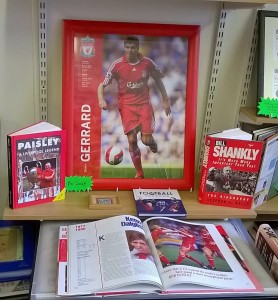 The Ultimate Liverpool FC
Programme & Memorabilia Collection.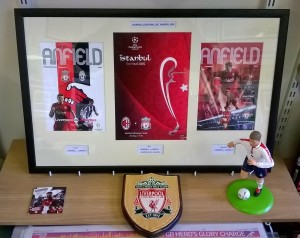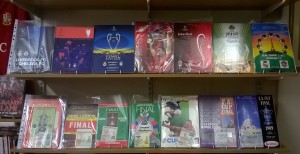 Brand new display:
Steam's Golden Age.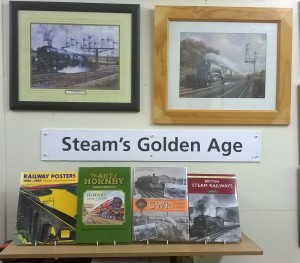 Great collection of Model Cars now in store.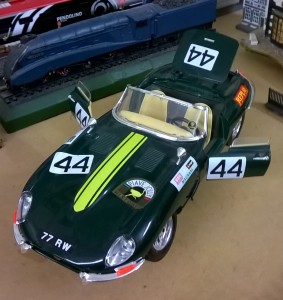 RAILROADER at All Our Yesterdays.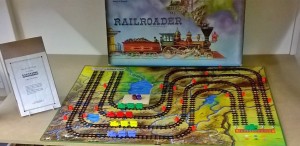 Tony Tiger's latest creation.
A magnificent German Steam Locomotive.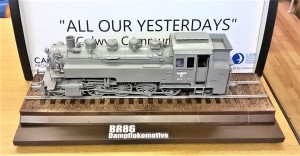 All Our Yesterdays has launched 'Llandudno At Work' by Peter Johnson. 
We are very pleased to launch this excellent book.
We expect it to become a best-seller in its literary category.
The second picture features Peter's most recent books.
'Llandudno At Work' can be purchased at All Our Yesterdays.
Colwyn Community Radio goes live on Monday, February 5th, 2018.
Click on Colwyn Community Radio to access their website.
DC Comics now available at All Our Yesterdays.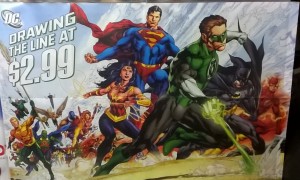 Brilliant new book on Hornby Railways Art.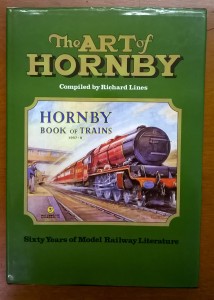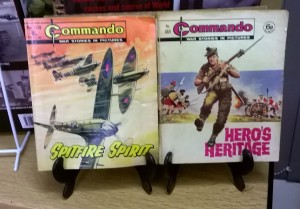 Three excellent Commando Magazines are available.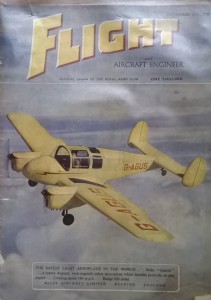 Outstanding collection of 'Flight' magazines
from the late 1940s can be purchased
at All Our Yesterdays.
Our latest 'Inside Stories' display includes these great titles.

Our latest 'Theatre Critique' display features Little Mix.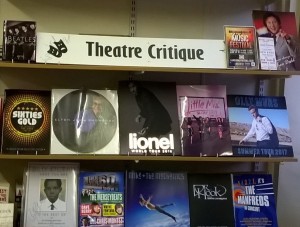 Ken Dodd, Elton John, Lionel Richie, Billy Ocean, Olly Murrs,
Dr Hook, Mike and the Mechanics and the Manfreds.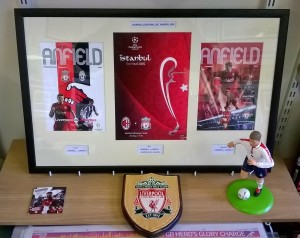 Our Liverpool 2005 Champions League Winners presentation.
Featuring Steven Gerrard Airfix model figure.
August  2017 War Papers display.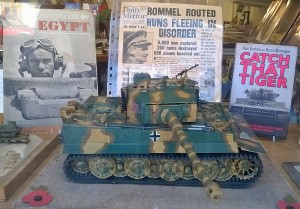 Graham Gouldman to appear in Colwyn Bay.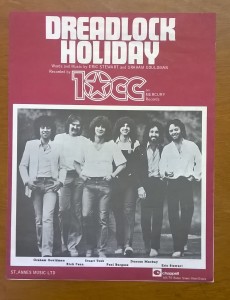 Our June additions to our displays are now on view.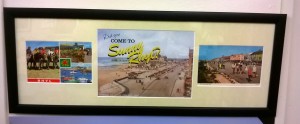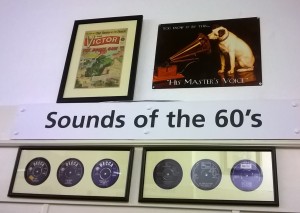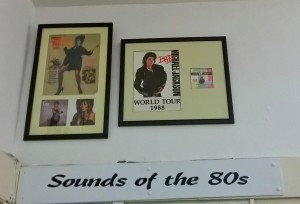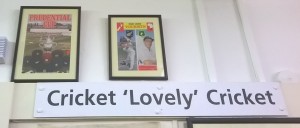 Conwy & Around in 50 Buildings is our latest addition to our
Town Through A Lens display.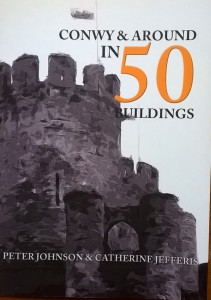 Great new jigsaw at All Our Yesterdays.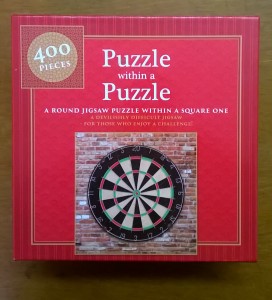 Great new Ward Lock Guide to North Wales is on sale.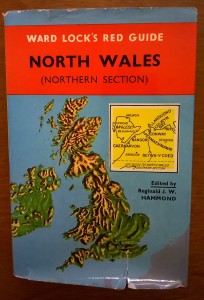 Published 1957.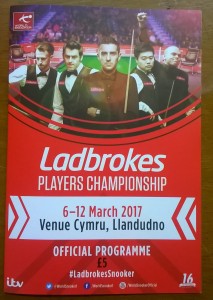 Great Thursday night at the Snooker.
Two more Snooker World Champions sign for All Our Yesterdays.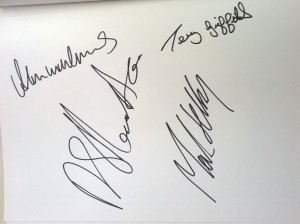 Current World Snooker Champion Mark Selby
and former World Snooker Champion Terry Griffiths
signed autographs for All Our Yesterdays.
Alan McManus and Anthony Hamilton also signed for us.
We would like to thank all these players for their cooperation.
The Ladbrokes Players Championship Trophy.
Won by Judd Trump who defeated Marco Fu in the final.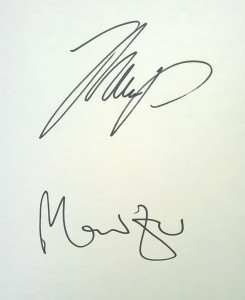 Many thanks to Judd and Marco for signing the above autographs.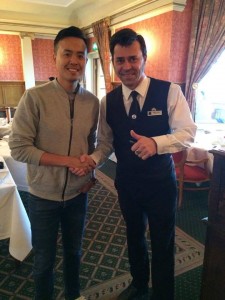 Marco Fu with Johnny Moonlight.
We also obtained Stephen Hendry's and Neil Fould's autographs.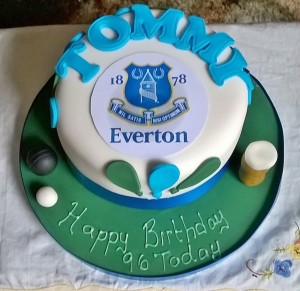 Tommy Smith's cake celebrating his 96th birthday.
'Cakes by Clair' of Colwyn Bay made this wonderful cake.
All Our Yesterdays acquires a 1979 Hornby Catalogue.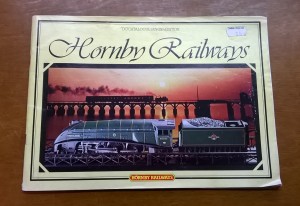 New 'Ruck and Maul' display goes 'live' for Six Nations Championships.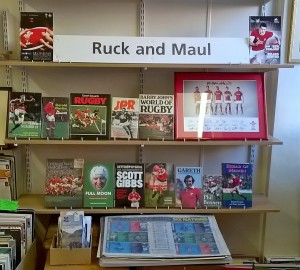 Our new Window Display is up and running.
Many thanks to Sean Bainbridge for the excellent dioramas.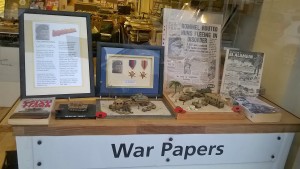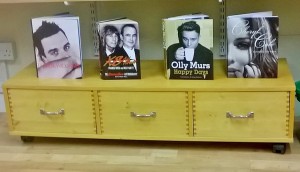 Our latest feature entitled 'Inside Stories'.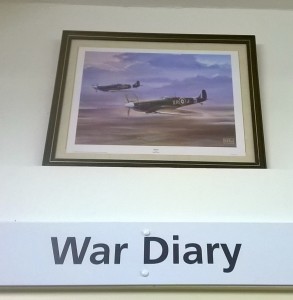 Wonderful picture of two Spitfires above our War Diary display.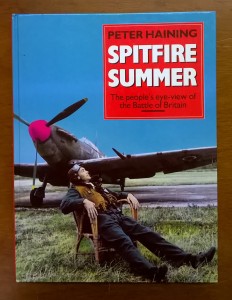 Our brilliant new Battle of Britain book.
0 Gauge Model of City Of London Locomotive visits All Our Yesterdays.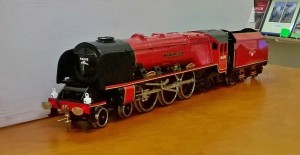 New book on Cliff Morgan featuring Question of Sport.
O2 programme from the end of year Tennis finals.
Won by Andy Murray to make him World Number 1.
New display under construction entitled 'Inside Stories'.
In this display we intend to feature the inside story of
famous people revealed in their books.
We feature Reporters like Kate Adie pictured below,
Bob Marley, Midge Ure, from the Music World,
some of the great Sporting Personalities,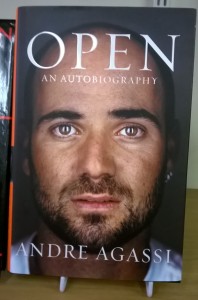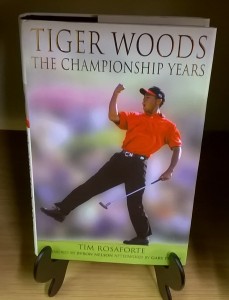 Showbiz Greats,
and some prominent political figures.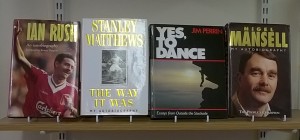 Ian Rush's autobiography includes a signed photo.
Stanley Matthews book describes the Wizard on the wing.
'Yes, To Dance' is signed by ace climber Jim Perrin.
Nigel Mansell's autobiography is a must read for Motor Sport fans.
Model Railway News.
Llandudno Junction Footbridge Extension has been completed.
Many thanks to Tony Jardine for his excellent work.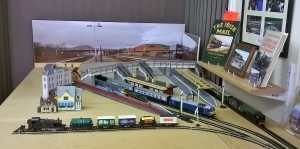 BBC Proms in the Park, Saturday 10th September, 2016.
Parc Eirias Stadium, Colwyn Bay.
Spandau Ballet's Tony Hadley signs for All Our Yesterdays.
Yes that's 'True'.
We were privileged to see Young Musician of the Year:
Sheku Kanneh-Mason.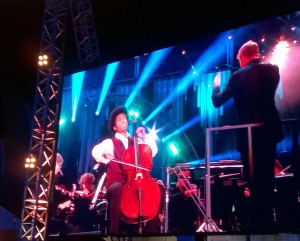 Great new aeroplane models visit All Our Yesterdays.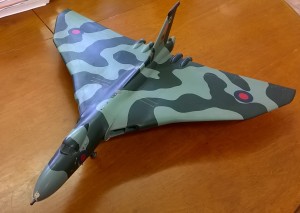 This is Dave's magnificent Vulcan Bomber.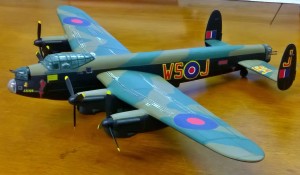 Dave also brought in this superb Lancaster Bomber.
Camron brought in his impressive Lego Rescue Helicopter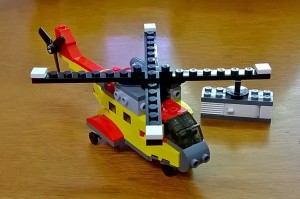 RMS Titanic makes its debut at All Our Yesterdays.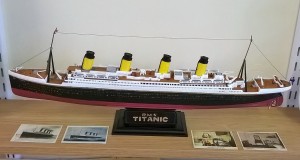 This magnificent model was produced by Tony Williams.
Trevor Whittaker bought the kit for £4 at a car-boot.
Watch out for more exciting models over the next few months.
The Flying Scotsman visits North Wales and looks superb.
The picture shows this iconic locomotive leaving Llandudno Junction.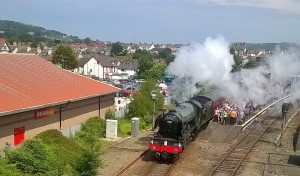 The Pendolino Express returns to All Our Yesterdays.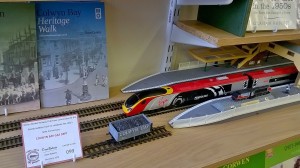 The Pendolino Express stops at Colwyn Bay.
Stewart's Freelance Diesel 'Linda' at All Our Yesterdays.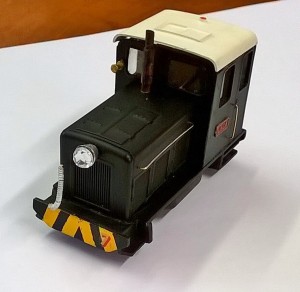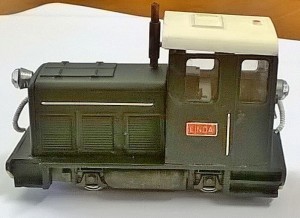 Photo enhanced to show detail.
Loco has black livery, see first photo.
Kato-tramp chassis 103-1.
Twin axle drive.
Fitted head and rear lights.
Vacuum brakes.
Couplings to be decided.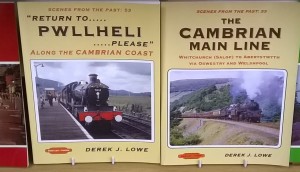 Two brilliant books on the Cambrian line.
Left: The Cambrian Coast line.
Right: The Cambrian Main line.
A must read for all Railway enthusiasts.
Purchased by Barry Jones on All Our Yesterdays behalf.
Watch out for this superb book on Penmaenmawr.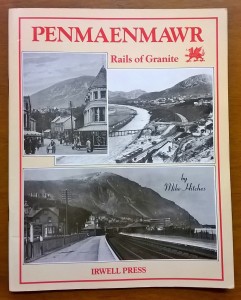 First copy was snapped up within an hour.
All Our Yesterdays displays:
Flying Scotsman poster.
Pictured after its £4.2 million overhaul in Bury.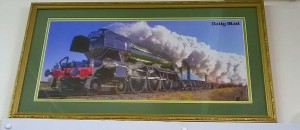 Special thanks to the Daily Mail, Barry Jones and Gwilym Jones.
Calling all Rugby Union fans.
On sale at All Our Yesterdays:
 terrific collection of Five Nations Championship programmes.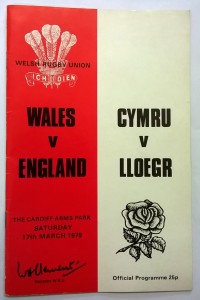 phone Charles on o7802654106 or e-mail:
charles.eaves@btinternet.com
New Champions and Cup Winners Display.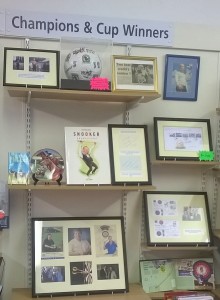 Rover Soccer Cards set is now complete and up for sale.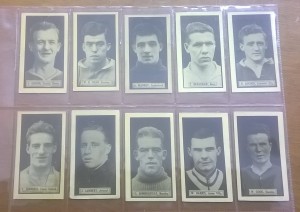 Billy 'Dixie' Dean can be seen second left on top row.
Contact Charles on 07802654106 for more details.
You can email him: charles.eaves@btinternet.com.
Everton Heroes and Legends.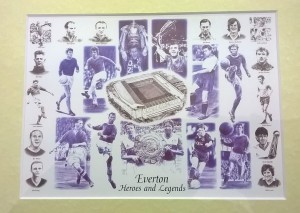 In our new Champions and Cup Winners display we feature:
Tommy Smith Eirias Park Bowls Champion,
Tony Williams local Darts Champion,
John Spencer and Dennis Taylor World Snooker Champions.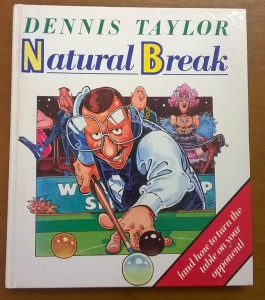 Mill Reef the great Flat Racing Champion.
See below for our Darts Champions:
Steve Beaton, Jocky Wilson, Ian Anderson and Tony Williams.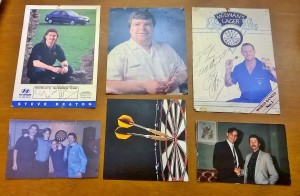 Blackburn Rovers Premiership Champions.
England 1966 Soccer World Cup Champions.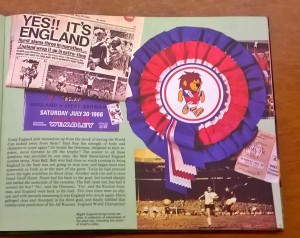 Latest Model-makers news. 
Stewart's 009 Diesel Model.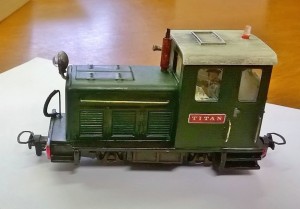 Based on Roger Christian's idea printed in a 2010 edition of Railway Modeller.
'Titan' has a Kato-4 wheel chassis.
Body is that of a 00 cut-down Knightwing Rushton Diesel.
A new footplate was made from 2mm plastic-card.
Knightwing body was cut-down to fit.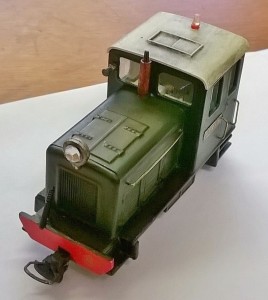 Extras added:
Etched nameplate, vacuum pipes.
 Exhaust pipe: made from an ear-bud & cut-down cocktail stick.
Front & rear headlamps fitted, wire handrails.
Driver inserted in cab.
Bemo-couplings and slightly weathered finish.
Camron's new Lego models have visited All Our Yesterdays.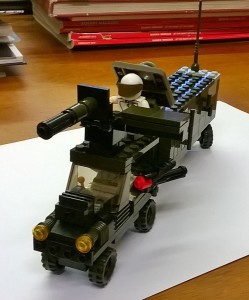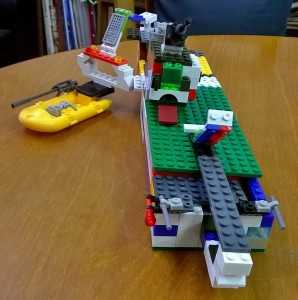 2015 Davis Cup Final programme on view at All Our Yesterdays.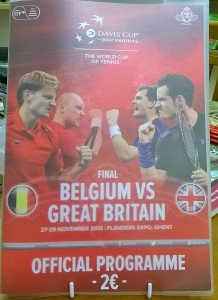 The Murrays look pretty mean.
Belgium 1 Murrays 3.
Great Britain Davis Cup Champions.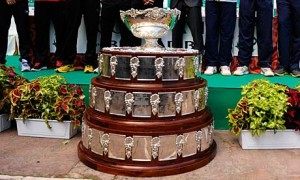 Lionel Richie booked for Parc Eirias.
All Our Yesterdays will be there to say 'Hello'.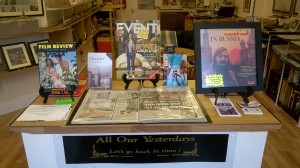 Troy has brought in his superb hovercraft.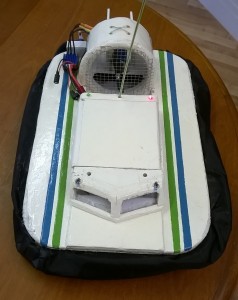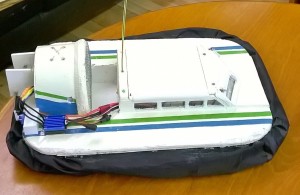 This superb craft has been run successfully on car parks.
Troy is waiting for calm weather to run her on Eirias Park Lake.
Just another great example of model-making talent.
Models for Sale.
Tony has brought in a superb range of model US Fighter aircraft.
All are for sale at very reasonable prices.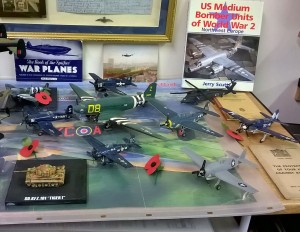 New Football History Newspaper Headlines folders.
1923 FA Cup winners Bolton Wanderers.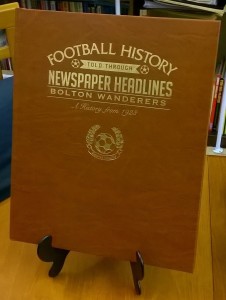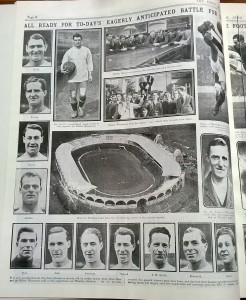 Manchester United 1958 to 1968 Pictorial History folders.
A must see for any United fan.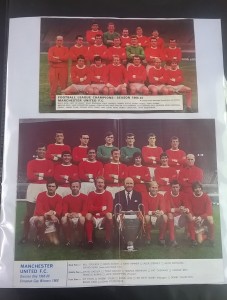 1980s Rupert Bear Annuals for sale.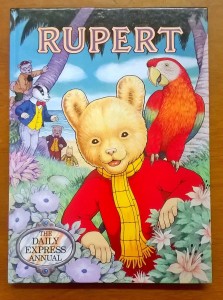 'Snooker Characters'
A great book for all Snooker fans.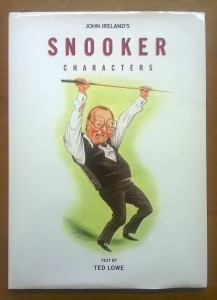 Whole Lotta Vinyl for sale,
'Way down inside' All Our Yesterdays, 
at Our Strictly Vinyl Record Bar.
Great Sounds @ Great Prices.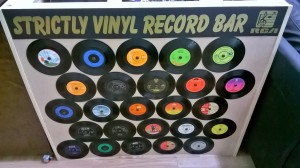 At last our Llandudno Junction backdrop has been installed.
This is not the finished product as the station will be enlarged.

New-look to Colwn Bay Station..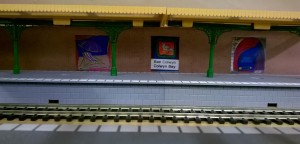 Colwyn Bay Pier and Rhos-On-Sea.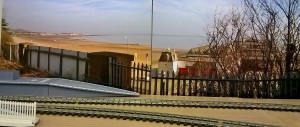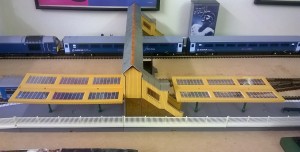 Reconstruction of Rhyl Station.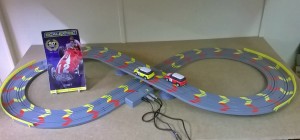 Welcome to the 50th Anniversary edition of Scalectrix.
Our new display 'Sounds of the 80s' has gone live.
We feature Duran Duran, Spandau Ballet, and Ultravox albums.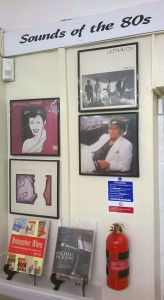 Pride of place goes to Michael Jackson's 'Thriller' album.
Ashes Clashes display.
The second in a series of displays on England v Australia Test Matches.
This display features the 1934 Ashes Clashes.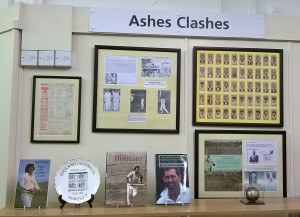 Pictured below:
Mr. Minshull's superb Bachmann Jubilee Class 4-6-0 locomotive.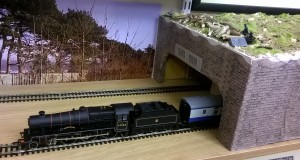 Here is a Bird's Eye view of our new freight train.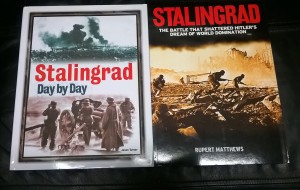 Battle for Stalingrad books for sale @ All Our Yesterdays. 
Excellent collection of  books, dvds and box sets on World War II .
The rise of Nazi Germany is chronicled in a number of  volumes.
Ideal for A'Level History students.
Phone 07802654106 for more details and prices.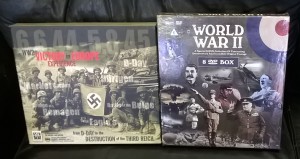 New War Papers display in shop window.
Featuring the Battle for Stalingrad.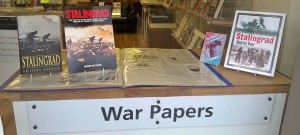 Books available for purchase at All Our Yesterdays.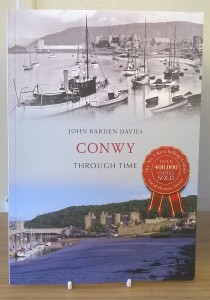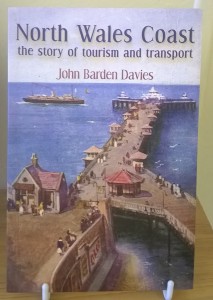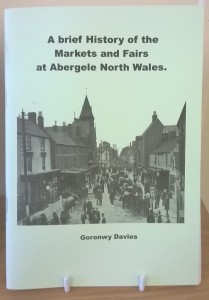 Railways of North Wales Book Display.

These superb books are all for sale at All Our Yesterdays.
Buy now to avoid disappointment.
 Ricky Hatton Glove Presentation is now for sale, contact Charles asap at: charles.eaves@btinternet.com or phone/text 07802654106 for more details.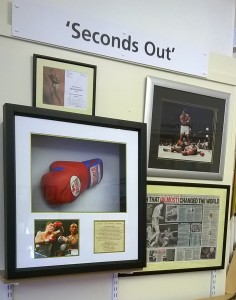 New Silver Screen Stars display,  must see for any film buff.
We like to keep you in the picture!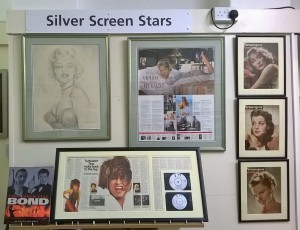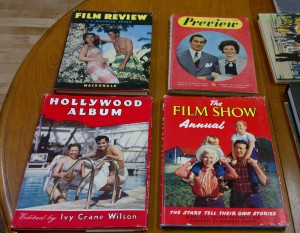 We have 18 Film annuals still for sale four of which are pictured above.
Buchaneer Fighter Aircraft picture is also available for sale.
All items can be viewed at All Our Yesterdays, 14 Greenfield Road, Colwyn Bay.