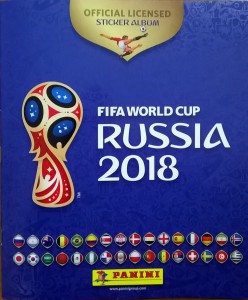 Sticker Swopping Centre.
All Our Yesterdays has a Sticker Swop Guru available to help you complete your Russia 2018 Sticker Album.
Regular swoppers visit All Our Yesterdays. Save time and money, send us your needs and we can find the stickers you want.
World Cup 2014 stickers also available to exchange.
We regularly attend swopping sessions in Chester, where we obtain numerous needs.
Lets hear from you and get swopping.
This is our most visited webpage, if you do have stickers to swop or incomplete sticker albums,  e-mail me at: charles.eaves@btinternet.com
Don't delay, mail me today, we may have that elusive sticker.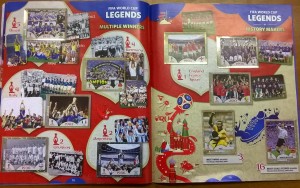 A new feature for the 2018 World Cup Album is the excellent Legends collection.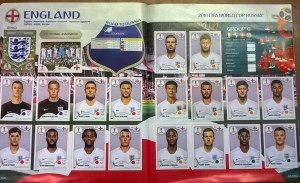 Unfortunately the England Squad have a Chocolate tint to all the player photos.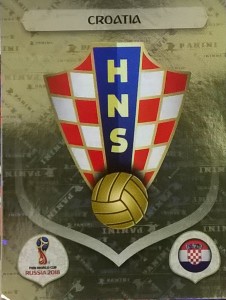 One of the many attractive Shinies in the 2018 World Cup album.
Panini's Euro 2016 Sticker Album.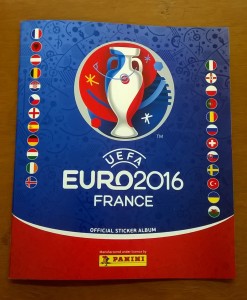 Album has a brand new format with 680 stickers to collect.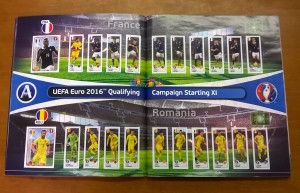 First match France v Romania, 10th June, 2106
Get down to All Our Yesterdays and start swopping.
With more shinies then ever,
completing the album is even more difficult.
Visit the Sticker Swop Guru to save time and money.
Ring 07802654106 to arrange a swopping session.
We are waiting for your call.
e-mail your needs to charles.eaves@btinternet.com
 Sticker Album History.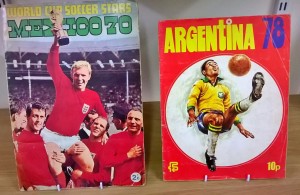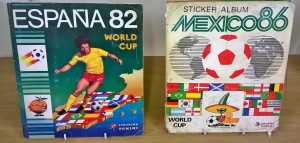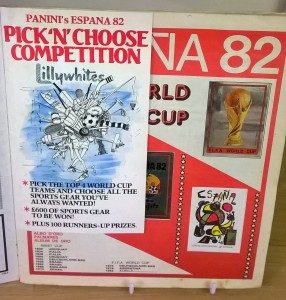 The above are a selection of albums from Panini and F.K.S. Publishers Ltd.
3D Soccer Picture Cards 1972/73 Season.
We have recently acquired three large
3D picture cards and seventeen
cigarette card sized 3D player cards.
We also have an album for all the cards.
If you have any of these fantastic cards
please bring them in to:
All Our Yesterdays,
14 Greenfield Road,
Colwyn Bay, Conwy.
LL29 8EL.
Pictured below are the larger 3D cards.
Bobby Charlton,
Gordon Banks,
Geoff Hurst.
Golden Stamp Books.
These books were the forerunners of our modern sticker albums.
The Golden Stamp Book entitled 'In Days of Old'
featured the Story of the Middle Ages.
The book includes 48 stamps accompanied by excellent text commentary and relevant illustrations.
Published in 1955, it is All Our Yesterdays' oldest sticker album.
We hope you would like to make a bid for this outstanding volume.
e-mail charles.eaves@btinternet.com if you are interested in buying this superb album.
Get stuck into some World Cup Sticker History.
It would seem the first 'World Cup' sticker albums were produced for the 1970 World Cup in Mexico by both companies.
However, F.K.S. did produce a 'World Cup Stars' album and pictures for the 1966 World Cup.
The pictures had to be glued into the album.
They went on to compete with one another until 1986, when Panini seem to be the only ones to produce a sticker album for the 1986 Mexico World Cup, as pictured above.
Our final picture contains a competition sponsored by Lillywhites in the 1982 Panini World Cup Sticker Album. Patrons were invited to name the 1st/2nd/3rd/4th placed teams in Espana 82.
This is a global market and over a million stickers were stolen in Brasil prior to the 2014 World Cup.
Someone, somewhere has quite a few swops!
Update. Michael at Junk and Disorderly has given us  a 1968/69 Soccer Stars Sticker Album.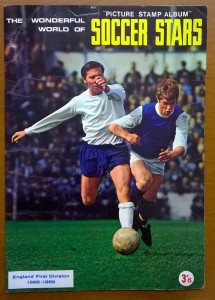 Produced by FKS Publishers Ltd, one of the early sticker albums.
Fantastic picture on the front cover.
You had to use glue or tape to fix the stickers in the album.
We are now on the lookout for the stickers.
If you have any e-mail me at:
charles.eaves@btinternet.com
I am the sticker-swop guru.