Ashes 2019.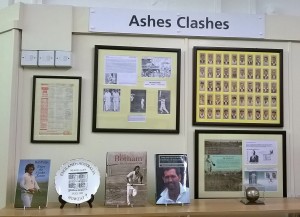 5th Ashes Test at the KIA Oval.
4th day of Final Test.
England win at the Oval to square the series.
A superb century by Australia's Matthew Wade
held up England.
Once Wade had reached his century
he seemed to lose the plot
and was stumped by Bairstow off Root.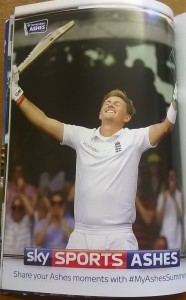 Captain Root took the last two catches
to win the match for England.
Series drawn 2-2
but Cricket was the real winner.
3rd Day Saturday.
Denly's 94 should have set up England win.
Stokes and Buttler also play well
to set up a challenging total for Australia to chase
in the fourth innings.
Archer and Leach are still undefeated at stumps.
2nd Day.
Jofra Archer gives England the edge
in 5th Ashes Test.
Archer's 6 for 62 was the highlight of the day.
Chris Woakes removed Aussie danger man Smith.
Australia were all out for 225, 69 runs behind England.
Burns and Denly survived a torrid time to put 9 runs
on the board by stumps.
England lead by 78 runs with all second innings wickets intact.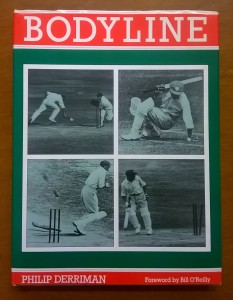 Day 1
Australia on top but Buttler and Leach lead
the England fight-back.
England reached 271-8 at stumps.
Buttler was 64 not out
ably supported by Jack Leach.
Joe Root the England skipper hit 57
but once again could not convert his fifty
to three figures.
Should be an interesting day tomorrow.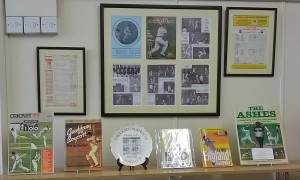 4th Test, Old Trafford, Manchester.
Final Day.
Australia retain Ashes with win at Old Trafford.
A valiant effort from England
to save the Fourth Test.
Josh Buttler, Criag Overton and Jack Leach
battled well to try to save the match.
England were all out for 197
and must win at the Oval to square the series.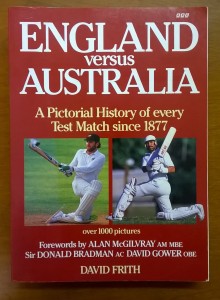 Australia declare at 186 for 6
to give them the best possible chance
England lose Burns and Root
to end day on 18 for 2,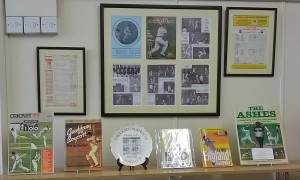 Day 3.
Wasteful England punished by Smith's double century.
Terminator Smith hits 211 for the Aussies.
Australia declare on 497 for 8.
England replied with 23-1 from eight overs,
losing Joe Denly for 4.
Third Test at Headingly, Leeds.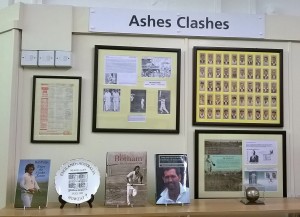 Stokes and Leach see England home.
Headingly witnesses yet another incredible Ashes Clash.
What seemed impossible became possible.
Bairstow and Stokes set up a platform for victory before lunch.
Bairstow made 36 but set the tone for the remainder of the game.
With 73 needed Jack Leach joined Stokes.
Stokes brilliantly managed the last wicket partnership.
He smashed the Australian attack all round the ground
but Leach's single brought the scores level.
Ben Stokes then smashed the next delivery through
the covers for the winning boundary.
Its never over till its over!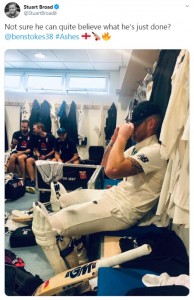 Can you believe it?
England fight back to keep Ashes hopes alive.
The two Joes give England a remote chance
of victory with a 126 run stand.
Denly made a brave half century
and Root (pictured below),
 was 75 not out at stumps.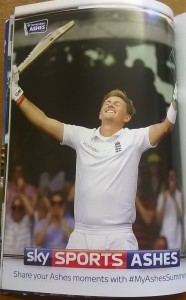 Earlier in the day Australia posted 246 all out,
with Glamorgan's Labuschagne run out for 80.
England need 203 to win this absorbing contest.
Much will depend on Root and Stokes
the not out batsman.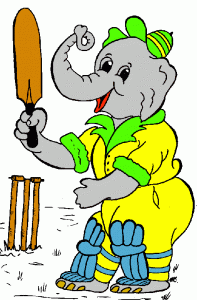 England 67 all out in their first dig.
Pathetic England batting puts Aussies in control.
Ben Stokes put in a magnificent spell on Friday evening,
but Australia still heading towards a 300 run lead
and an unassailable position,
in the 2019 Ashes Clashes Series.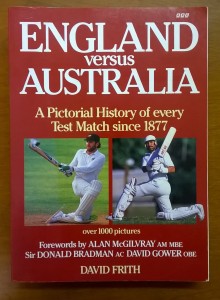 Second Test at Lords.
Exciting finale to truncated Lords Test.
Brilliant Stokes century gave England chance of victory.
Leach and Archer just fail to achieve an England win.
Australia finish six wickets down in their second dig.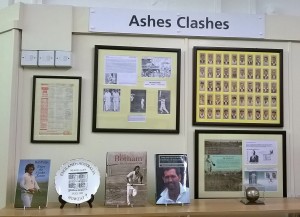 Third Day of Second Ashes Test.
Australia teetering after wickets fall to England's pace attack.
Smith and Wade are just about still there.
First Test wicket for Jofra Archer.
Broad and Woakes weighed in with other three wickets.
Australia are 80 for 4 at stumps.
England shot out for 258.
Half centuries for Burns and Bairstow.
Australia are 30 for 1 at stumps.
 First Ashes Test:
Edgbaston Birmingham.
Australia win first Ashes Test by 251 runs.
Nathan Lyon destroys England's vaunted middle order.
Only Warwickshire's Chris Woakes put up any serious resistance.
Second Test starts at Lords on Wednesday, 14th August, 2019.
Day 4 First Ashes Test.
Steve Smith's second match century
puts Aussies on top.
Burns and Roy see England to stumps without loss.
England require a further 385 to win.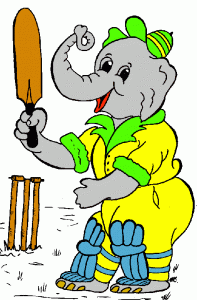 Day 3 at the first Ashes test 2019.  
Australia lead by 34 runs after day three of opening Ashes Test.
England had built a 90 run first innings lead.
Australia closed day 3 on 124 for three.
Rory Burns maiden Test century brings England
to within 17 runs of Australia's first innings total.
Australia 284 all out in first dig,
England are 267 for 4 after day 2.
Ashes Tour 2017/18.
Fifth Ashes Test at the Sydney Cricket Ground.
Australia deservedly win Ashes series 4-0.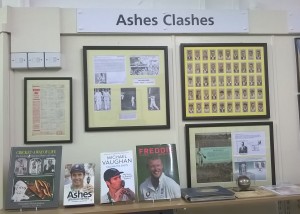 Day 5.
Sadly England skipper Joe Root was hospitalised
overnight due to a gastric problem and dehydration.
Moeen Ali and Johnny Bairstow
resumed the England innings, but Moeen once again fell to Nathan Lyon.
Bairstow and Root put up some resistance
and Root passed fifty once again.
Unfortunately Joe failed to appear after the lunch break
and England capitulated to another innings defeat.
England lost by an innings and 123 runs.
Days 3 and 4.
Australia take control of final Test.
Days 3 and 4 of this Test Match saw Australia
put the final nails in the English coffin.
Australia declared on 649 for 7 on day four
and then England staggered to 93 for 4 at stumps on the fourth day.
Australia had three centurions:
Khawaja made 171 and the Marsh brothers
both hit centuries on the hottest day
in Sydney since 1939.
Just not good enough England. 
Whether you are an Aussie or a Pom
you want to see a contest.
I am absolutely disgusted with the England
Coaching set up.
The bowling has been pitiful once twenty overs have been
bowled and our wonderful Spinners in the Australian first
innings here took 3 wickets in 96 overs,
and conceded 363 runs.
Rashid, England's best Spinner,
has been left at home.
Come on England this just doesn't add up.
Australia's best bowler is of course Mitch Starc.
Why haven't England used a left arm bowler
like David Willey?
England need bowlers who are suited to Aussie wickets.
If we haven't got them then lets start producing them;
if not, then further embarrassing Ashes defeats
in Australia are inevitable.
See you for the last rites of the
fifth and final Ashes Test tomorrow.
Day 2.
Khawaja and Smith frustrate England.
Early doors England quickly lost Dawid Malan
for 62 but for the first time in this Ashes Series
the England tail wagged.
Moeen Ali, Tom Curran and Stuart Broad all
made thirties to steer England to a reasonable total of 346 all out.
Australia in their first dig lost Bancroft for a duck,
but Warner reached 56 before falling to Anderson.
Khawajah was proving troublesome and was joined
by skipper Steve Smith who went on to pass 6,000 Test runs.
Khawajah was 91 not out at stumps with Smith on 44.
Australia closed at 193 for 2, 153 runs still behind.
Mason Crane made a promising test debut,
but tomorrow will be a big test for the young England spinner.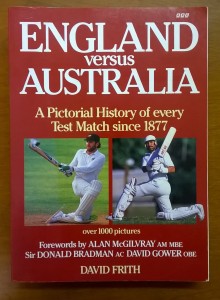 Day 1.
Late wickets halt England's excellent recovery.
England lost Yorkies Root and Bairstow to the second new ball
to put the fifth and final Ashes Test of the series in the balance.
Cook, Stoneman and Vince all got starts but failed to kick on to a big score.
Skipper Joe Root made an excellent 83 and Dawid Malan was not out 55 at stumps.
England closed on 233 for 5 and we shall have to see what tomorrow brings.
Fourth Ashes Test at the MCG.
Day 5 at the MCG.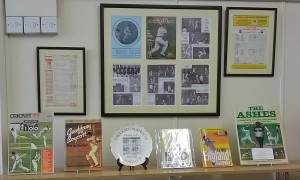 Benign pitch makes result impossible.
Both captains criticised the pitch
at the MCG for producing a drawn match.
Australian skipper Steve Smith
guided his team to safety on day five
of the fourth Ashes Test.
Smith scored 103 and he and Mitch Marsh
helped Australia to 263 for 4 declared.
David Warner made an excellent 86
before falling to England skipper Joe Root,
who has averted the ignominy
of a second successive 5-0 whitewash
for England in Australia.
England can be proud of this performance
and should be far more confident going into
the fifth and final Test in Sydney.
Day 4.
Rain stalls England's push for victory.
England lost Anderson without adding
to their overnight total of 491.
Rain then came to the rescue of Australia
on day four of the Boxing Day Test Match.
Australia lost Bancroft and Khawaja
but Warner and Smith saw the Aussies
safely through to a premature close of play.
Australia's dynamic duo Warner and Smith
hold the key to this match.
They could engineer an Aussie victory,
but all three results are possible
as we look forward to day five
of an enthralling Fourth Test.
Day 3 of Boxing Day Test.
Defiant and determined England take the initiative.
England's Cook and Broad gave England a 164
run lead in the fourth Ashes Test at the MCG.
Their entertaining 100 run partnership wrestled
the initiative away from Australia.
Cook ended the day on 244
and passed Brian Lara's career runs total.
England closed on 491 for 9
with Cook and Anderson the not out batsman.
Skipper Joe Root had earlier made an excellent 61,
before losing his wicket to a poor stroke.
Cook was dropped twice by Aussie Skipper
Steve Smith, but this was arguably
Alistair's best ever innings for England.
Will Joe Root declare or go for a 500 plus total.
Watch this space as they say!
Day 2 at the MCG.
Broad and Cook respond well to vitriolic criticism.
Stuart Broad took four excellent wickets
to prevent Australia amassing another
mammoth total.
The Aussies were 260 for 3, but collapsed
to 327 all out.
Debutant Tom Curran bowled Steven Smith
for his first Test wicket,
Broad, Anderson and Woakes blew away the Aussie tail.
In their first dig, England lost Stoneman for 15
and Vince for 17, but Cook and Root shared a 112 run partnership
to see England through to stumps on day 2.
To say England are on top here in Melbourne
is somewhat wide of the mark.
If Root and Cook are still there by lunch
on day 3 there are certainly grounds
for optimism.
The fun starts again at 11.30pm gmt.
  Day 1 of the Boxing Day Test.
Warner century the only bright spot
on a boring opening day at the Boxing Day Test Match.
The majority of the 85,000 spectators
probably wished they had stayed at home.
Woakes, Anderson and Broad
shared the three wickets to fall.
England debutant Curran
went from England hero to villain when
he dismissed Warner on 99
only to have his first Test wicket
ruled out by a review
which spotted a no-ball.
Warner went on to make 103
and with England nemesis
Steve Smith back at the crease
Australia closed on 244 for 3.
Third Ashes Test at the WACA in Perth.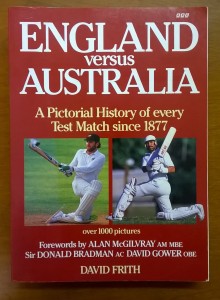 Australia regain the Ashes.
England bowled out for a paltry 218
in their second innings lose by an
innings and 41 runs.
There should be a very careful assessment
of the England team's performance
and changes need to be made.
Cook and Broad must be dropped
as their contribution has been negligible.
Aussie skipper Steve Smith is looking for another
5-0 whitewash; and there is every possibility
that this may happen.
Congratulations Australia your Ashes Series
victory is well-deserved.
Day 4.
Australia on the brink of regaining the Ashes.
Australia amass a Jumbo-sized total.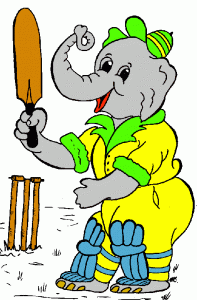 Australia declare their first innings on 662 for 9.
Steve Smith only added 10 to his overnight score
and Mitch Marsh failed to add to his 181.
Both Aussie batsman fell to Jimmy Anderson.
Aussie Wicketkeeper Paine and Pace Bowler Cummins
held up England and helped Australia reach 662.
Smith declared when Nathan Lyon was out for 6.
England's second dig began disastrously,
losing Stoneman and Cook cheaply.
James Vince made a solid half century
but skipper Root went cheaply.
Bairstow and Malan saw England through
to what was a premature close due to rain.
Gilchrist and Vaughan reckon only rain can save England.
I can see the Ashes being in Australian hands by lunch on day 5 of this Test match.
I hope I am wrong!
Day 3.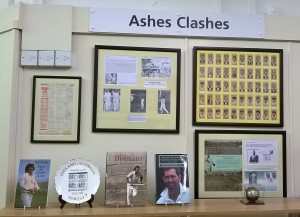 Wilting England no match for Smith and Marsh.
England were put to the sword today
by Steve Smith and Mitchell Marsh.
Smith scored 229 not out and Marsh finished on 181 not out.
Only one Aussie wicket fell all day and that was
the wicket of Shaun Marsh.
Australia will probably declare sometime tomorrow
and will make England struggle for Ashes survival.
Only bad weather can save England from
a humiliating Ashes defeat.
Day 2 at the WACA.
England first innings closes at 403 all out.
Dawid Malan made 140 and Johnny Bairstow 119,
but the England tail were blown away by the Australian pace attack.
Craig Overton removed both Aussie Openers,
but Steve Smith and Khawaja steadied the Australian innings.
Steve Smith was on 92 not out at stumps with
Australia 203 for 3,  just 200 behind the England total.
Pundit Geoffrey Boycott made a wonderful
observation on Steve Smith's batting.
Steve uses the same technique as the great
Don Bradman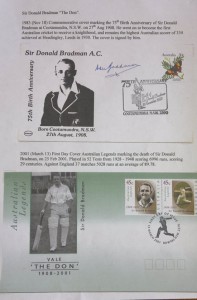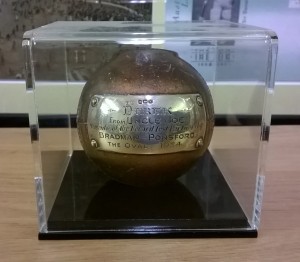 and seems to be equally prolific at the crease.
His strokes resemble a good Tennis forehand.
See if you agree with our observations.
Day 1
Dawid Malan scored his maiden Test century
as England amassed 305 for 4 on day one
of the third Ashes Test at the WACA in Perth.
At stumps on day one Malan was 110 not out
ably supported by Johnny Bairstow
who reached 75.
Their stand was worth 174 at stumps on day 1.
Mark Stoneman made a solid 56,
but there was another low score from Alistair Cook.
James Vince and Joe Root failed to build on good starts,
but Malan and Bairstow saw England through
the second new ball without further loss.
The key to this match may be Joe Root
winning the toss on a good surface
and lightning fast outfield.
Seccond Ashes Test at the Adelaide Oval.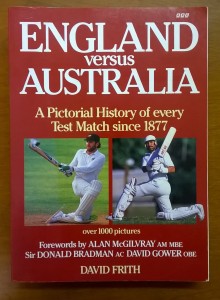 Judgment Day 5.
England blown away by Aussie Pace Attack.
England quickly lost Root and Woakes on day 5.
Only Johnny Bairstow put up any resistance with 36
and England were bowled out for 233.
Starc finished with 5 wickets and Australia
can regain the Ashes in Perth
which stages the next Ashes Test.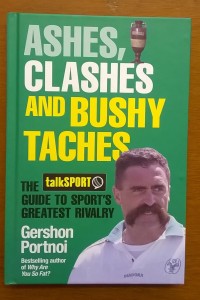 This was a better performance from England
but with no English batsman reaching three figures
another 5-0 drubbing looks on the cards.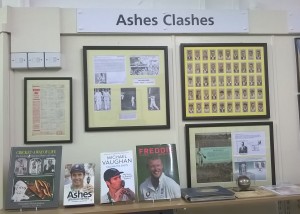 I agree with Geoff Boycott,
England's batters must begin to convert
their good starts into big scores.
Twenties and thirties don't win test matches.

Day 4.
Anderson and Woakes give England chance to square series.
Brilliant bowling by James Anderson and Chris Woakes
sent Australia crashing to 138 all out in their second dig
at the Adelaide Oval.
Anderson took five Aussie wickets and Woakes four,
to give England a slender chance of victory.
Batting again England made a good start
with Cook and Stoneman playing well.
Sadly Cook went for 16 and Stoneman for 36
chasing a 354 run target.
Skipper Root and James Vince saw England through
to the Dinner break without further loss.
In the final session of the day,
England lost Vince for 15, but Root and Malan
took the score to 169 before Malan
was dismissed for 29.
Warwickshire's Chris Woakes joined his skipper
to see England through to stumps.
England closed on 176 for 4,
requiring another 178 to secure
an unlikely victory.
Joe Root needs to score big if England
are to square the series tomorrow.
Should be an exciting final day.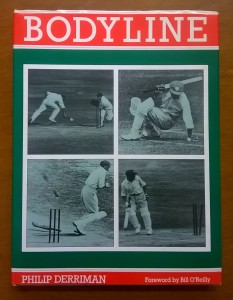 BT Sport reminded us that the Adelaide Oval
witnessed the brutality of Bodyline bowling.
Day 3.
Desperation DRS saves Steve Smith.
Aussie skipper refused to enforce the follow on
after England struggled to 227 all out.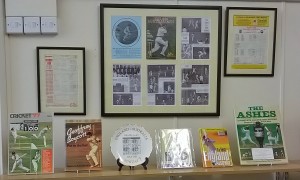 Jimmy Anderson, the Burnley Express, tore into the Aussie batting,
removing Bancroft and Khawaja.
Chris Woakes took the vital wickets of David Warner
and Aussie Skipper Steve Smith who had survived an lbw appeal
by a hairs-breath according to DRS.
Birmingham Bear Chris Woakes bowled a magnificent spell
and was unlucky not to take the wickets of night-watchman Lyon
or Peter Handscomb who saw Australia to stumps on 53 for 4.
Has Aussie Skipper Smith given England a glimmer of a chance?
Not in my book any total beyond 300 will be totally beyond
England's mediocre batting line-up.
Rain saves England on day 2.
Australia declared their first innings at 442 for 8.
This left England 9.1 overs to negotiate.
They lost Stoneman for 18, but Cook and Vince
saw the tourist through to stumps.
Earlier in the day Shaun Marsh had scored 126.
On this score for Marsh Aussie skipper Steve Smith
 declared leaving the England opening pair
a tricky 9.1 overs to negotiate.
England will do well to save this Test,
but perhaps the weather will be the decisive factor.
 DAY 1.
Joe Root wins the toss and inserts the Aussies.
On a rain-affected first day Australia closed on 209 for 4.
This is a day night Test Match with a pink ball.
Aussie skipper Steve Smith fell to Ashes debutant
Craig Overton with his score on 40.
Chris Woakes had dismissed both openers,
running out Bancroft and having the dangerous
David Warner caught behind by David Bairstow.
Top scorer for the Aussies so far is Khawaja who was
caught by James Vince for a well-made 53.
The question now arises has Joe Root made a big
mistake inserting the Aussies.
300 would seem to be a par score for this wicket.
Day 5 of first Ashes Test.
Bancroft and Warner see Australia home
to a ten wickets victory over a demoralised England.
England will require a major re-think
if a 5-0 whitewash is to be avoided.
The loss of Ben Stokes looks to be more decisive
than we first thought.
Day 4 of first Ashes Test.
Aussies set to go one up in the series.
Bancroft and Warner bring Aussies to the brink of victory.
Commencing day 4 at 33 for 2 England made a solid start with Stoneman
and Root taking the total beyond 50.
Root went on to top score with 51,
but England lost wickets at regular intervals
to set Australia 170 to win in their final dig.
Bairstow and Ali both got into the forties
but failed kick on to a bigger score.
Stuart Broad was incredibly unlucky with his dismissal getting
the faintest touch on the ball.
When Australia batted again Bancroft and Warner
survived a very hostile opening spell from Broad and Anderson.
Solid batsmanship and excellent running between the wickets
saw them put on 114 for no loss by the close of play.
As predicted the Aussie bowling attack is better than England's.
The Aussie's have faster bowlers which suits Australian conditions.
Their three pronged pace attack backed
by spinner Nathan Lyon gives them the edge.
Question is can England avoid a 5-o whitewash?
Watch this space for answers.
Day 3 of the opening Ashes Test.
Captain fantastic Steve Smith holds Aussie innings together.
Aussie captain Steve Smith put Australia in control
of the first Ashes Test at the Gabba.
Well supported by Pat Cummins who made 42,
the Aussies closed on 328 all out with Smith
not out 141.
England's Horror Half Hour.
England's second dig opened badly
with Cook and Vince going cheaply.
Skipper Root and Geordie Stoneman saw out the day
after a bumper barrage from the Aussie quicks.
Root took a nasty blow in the visor but was ok to continue.
James Anderson was the happiest
man on the planet. He had managed to avoid playing
his role as England's night watchman.
England closed at 33 for 2 seven runs ahead.
Honours even after day two of First Ashes Test.
England batted well for the first hour on day 2.
Malan and Moeen were solid with Malan reaching 56.
England then collapsed to 302 all out.
Moeen Ali made 38, but Chris Woakes was out for a duck
and Johnny Bairstow was caught pulling for 9.
There was some resistance from Stuart Broad and Jake Ball,
but 302 was a disappointing score.
Stuart Broad took the early Australian wicket of Bancroft,
Khawaja fell lbw to Moeen and Australia were 30 for 2.
The dangerous David Warner moved Australia past 50,
but soon fell to Jake Ball.
Jimmy Anderson took the wicket of Handscomb
and England looked in a good position.
The excellent Steve Smith, ably supported by Shaun Marsh,
guided Australia to 165 for 4 at stumps.
Day three will be the pivotal day in this Test Match.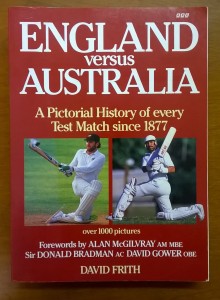 Day 1.
Ashes debutants do England proud.
England won the toss and elected to bat on the first day of the opening Test
in the 2017/18 Ashes Series at Brisbane's Gabba Cricket Ground.
England lost Cook and Root cheaply but Stoneman, Vince and Malan
all made promising Ashes debuts.
Nathan Lyon was the pick of the Aussie bowlers,
but could not effect a late breakthrough,
leaving the field wicketless.
England at stumps on the first day had reached 196 for 4
with Malan and Ali the not out batsman.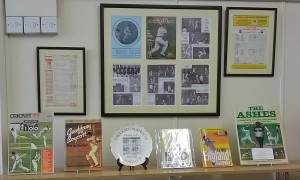 Great new book on Shane Warne.

Brian Statham appreciation package is now on sale.
Signed book entitled 'A Spell At The Top',
Pamphlet from Brian's last first class match,
Booklet on 100 years of Old Trafford.
Don't miss out on this terrific package.
Two Great new books first features the Bodyline Series.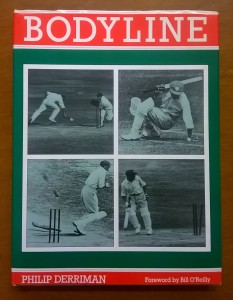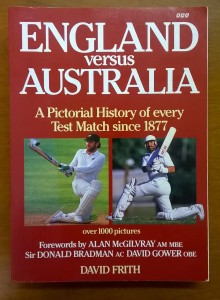 This superb book is a must for all Ashes enthusiasts.
New Ashes Clashes book.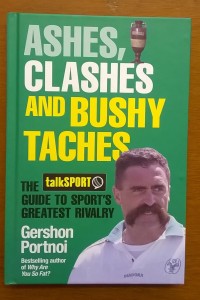 Our latest 2005 Ashes book and dvd display.
Ashes Clashes through the decades.
Our first display featured the Test matches between 1948 and 1968.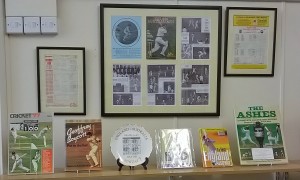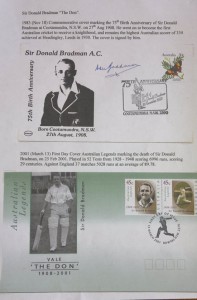 Up next the famous 1934 series in England featuring Don Bradman.
This record-breaking series followed the infamous 'Bodyline' Tests in Australia.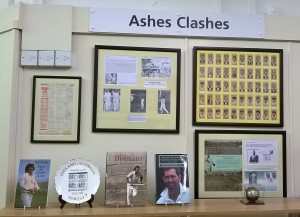 Our second Ashes Clashes display includes:
A Cricket ball used in the famous 1934 Oval Test.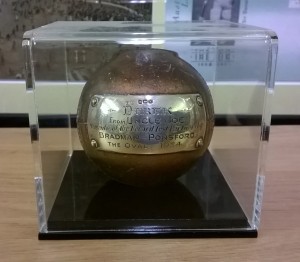 Set of Cricketing cigarette cards from the 1934 Ashes.
New book featuring the dramatic 1981 Ashes Series.
2015 Ashes Updates.
Aussies take control in 5th Test.
Australia 481 in first dig.
England a sad 107 for 8.
 Marsh and Siddle on fire.
England's pathetic batting.
Trent Bridge hangover.
England 149 all out.
Following on 286 all out.
85 from Cook, mixed grill for Bairstow.
Caught off  fielder's grill for second time in Tests.
Rain fails to save England from deserved innings defeat.
2015 Ashes Clashes series score: England 3 Australia 2.
4th Test commenced Thursday, 6th August, 2015.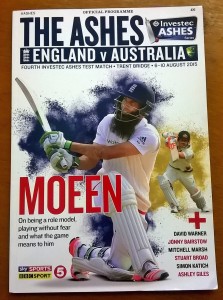 Venue: Trent Bridge, Nottingham.
Which way will the Urn turn?
4th Ashes Test.
Stupendous Broad.
8 for 15 on first morning.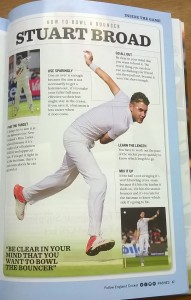 Broad and Root crush abysmal Aussies.
Police called after reports that Aussie team were getting battered.
Australia 60 all out before lunch.
Fastest five for in Cricket history.
Root and Bairstow hasten return of the Urn.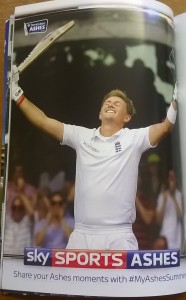 England 274 for 4 at stumps on first day.
Day 2
England close first innings on 391 for 9 declared.
Warner and Rogers put on hundred stand in second dig.
Stokes on fire as Aussies collapse.
He collects a five for.
England require three more Aussie wickets tomorrow.
The Urn will then return to England.
Day 3.
The Urn returns to England.
Wood bowls Lyon to clinch the series.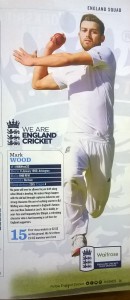 Adam Voges left unbeaten.
Australia in disarray.
3rd Ashes Test at Edgbaston, Birmingham.
Jimmy hands out six of the best to Australia.
 Australia 136 all out.
England reply with 133-3 at stumps.
Ian Bell's 53 the main batting contribution.
Finn and Bairstow recalled to England XI.
Second day.
England must beware of sting in Aussie tail.
You ain't seen nothing like the mighty Finn.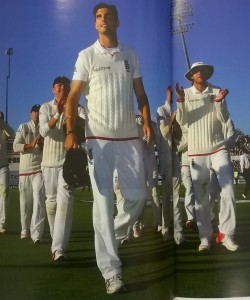 Steve Finn rips through Aussie top order.
Finnishes the day with 5 for 45.
Australia's second dig closes on 168 for 7.
England dismissed for 281.
Moeen and Broad in vital partnership.
Australia lead by 23 going into third day.
Anderson injury the only downer on day 2.
Third and final day.
'Form is temporary, class is permanent', rings true for Bell.
Aussie tail wags but Bell and Root seal the deal for England.
Australia 265 in second dig.
England set 121 for victory.
Bell 65  not out and Root 38 not out seal England victory.
England take a 2-1 Ashes lead to the 'Bridge'.
Second Ashes Test at Lords.
Bell's dropped catch takes its toll on England.
Back to earth with a bang for England's Cricketers.
 Rogers and Smith made full use of  flat pitch to put Australia in control.
 337 for 1 at stumps Australia are in the box seat.
Ashes Superstar in Town.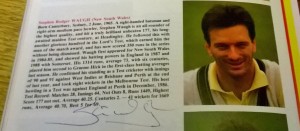 Steve Waugh, pictured above, was at Lords yesterday.
Steve scored a magnificent 177 in the first test of the 1989 Ashes Series.
Second Ashes Test Day 2.
Belligerent Ben leads England recovery.
Ben Stokes led England's fight-back on day two.
Australia declared on 566 for 8.
England's top order collapsed again.
Captain Cook steadied the ship.
 Fifty run partnership with Stokes.
England closed at 85 for 4,  461 runs behind!
Day 3.
England struggle to 312 all out in first dig.
Dropped catches lose matches.
Dropping Smith in first Australian innings proved very costly.
Dropping Warner on 0 in the second dig was catastrophic.
Australia closed on 108 without loss on day 3.
352 runs ahead Australia red hot favourites to level the series.
Day 4.
England get their backsides smacked.
'Unacceptable display' says Captain Cook.
103 all out in Ashes rout.
405 run defeat.
Bairstow must come in to bolster England batting.
Third Test at Edgbaston, Birmingham, starts 29th July.
Aussies Rooted in Cardiff.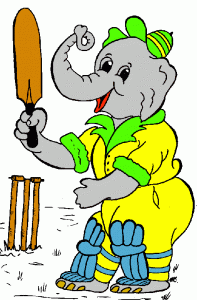 Baggy Green Cap Boys were set a Jumbo-sized winning total.
Sixties from Root and Bell helped England to 289 in their second dig.
The Kangaroos needed 412 to win the opening Ashes Test.
At 97 for 1 Australian looked to be making a fight of it.
Stuart Broad ripped out their top order,  Moeen and Root cleaned up the tail.
Only Mitchell Johnson provided any real resistance with 77.
Australia collapsed to 242 giving England a 169 run victory.
The Aussies need to get to the root of the problem!
On to Lords for the second of the Summer's Ashes Clashes.